Buffalo Check Adaptogen Mylk Latte Bundle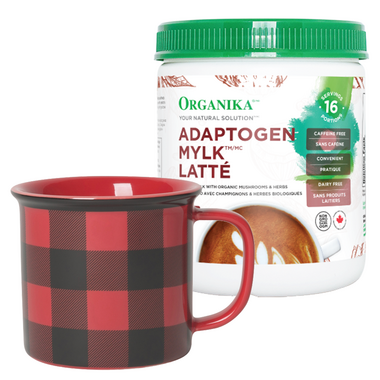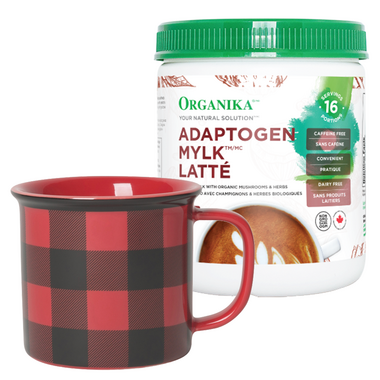 Buffalo Check Adaptogen Mylk Latte Bundle
This festive bundle is perfect for cozying up on the couch with a delicious and nutritious Adaptogen Mylk Latte!
Bundle Includes:
Organika Adaptogen Mylk Latte - 200 g
Buffalo Check Mug - 14 oz
Latte Details:
Recharge your body and mind with Organika's Adaptogen Mylk Latté! Featuring an adaptogen-rich blend of organic mushrooms and herbs traditionally used in Ayurveda to help increase energy and resistance to stress.

100% plant-based and caffeine-free, with prebiotic fibre in every serving, Adaptogen Mylk Latté is a delicious, convenient, and all-natural treat for when you want to get things done! Simply mix with hot or cold water and adapt.
Features:
Caffeine-free energy boost
Improves focus and memory
3.6 g of organic adaptogens per serving
Locally-raised mushrooms
2 g of fibre per serving
Contains prebiotic fibre
Caffeine-free
Dairy-free
Vegan-friendly
Directions: Ready to drink instantly! Just add 4 leveled teaspoons (~12.5 g) to 150mL of hot or cold water for a power-up in a cup. Beat the heat with an iced latte! Simply mix with hot water and pour over ice. Delicious mixed with non-dairy milk substitutes. We recommend almond or oat milk! Can be added to smoothies, desserts, and baking recipes.
Ingredients:
Coconut milk powder, Organic gelatinized maca powder, Prebiotic fibre (90% isomalto-oligosaccharide), Organic adaptogen blend (organic reishi mushroom powder, organic lion's mane mushroom powder, organic ashwagandha root powder), Coconut palm sugar, Cardamon powder, Cinnamon powder, Himalayan pink salt, Black pepper.
Mug Details:
This heritage mug is sure to bring back fond memories of camping as a kid. Made from enamel-inspired stoneware with a contrasting rim.

Features:
Materials - stoneware
Capacity - 14 oz