Bummis Super Whisper Wrap Diaper Cover Circus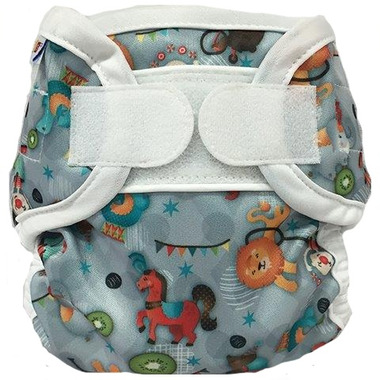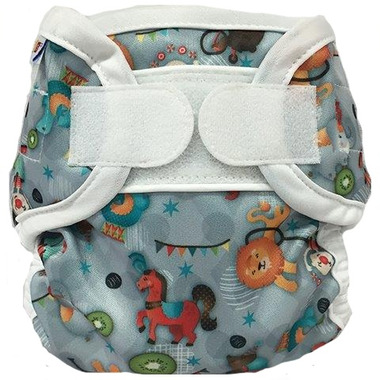 Bummis Super Whisper Wrap Diaper Cover Circus
- We're sorry, this product is no longer available!
- Shop for other products in: Cloth Diaper Covers

The Super Whisper Wrap is a VERY dependable cloth diaper cover with a proven track record. A mainstay in any 2 part cloth diapering system, it combines extreme functionality and the latest in cloth diapering technology with fun and colourful prints. And this premium but affordable cloth diapering product not only looks marvellous, but also has a remarkably good fit on most babies.

The generous cut of this cover makes it suitable for any type of FLAT or CONTOURED cloth diaper, or any type of PRE-FORMED, hook and loop fastener OR SNAP-CLOSING cloth diaper.

It features a durable waterproof layer concealed within 2 layers of ultra soft polyester fabric so that no laminate touches your baby's skin. Although this marvellous fabric is waterproof and will stand up to the rigors of industrial washing, it is comfortable for baby - and much more breathable than plastic or vinyl.
Special features of the Super Whisper Wrap:
Very adjustable. Hook and loop closures with an innovative overlap design that ensures a custom fit on any baby
Durable, heavy-duty elastic around legs and tummy which will not wear out with repeated washing.
Soft, smooth polyester knit bindings for a comfortable, stretchy fit, and a leak-proof seal.
Super-sized fold-back wash tabs to protect your laundry from rogue attacks by hook and loop closures.
Generous sizing means fewer cloth diaper covers to buy, while still assuring a great fit.

Emily:
more than a year ago
I like this diaper for the convenience of the Velcro. (though I've since heard that can collect lint, for the time being it is perfect!)
It is a little bigger than I expected, but that will be nice as my little man grows.
I would have liked for the leg gussets as well- my only real concern.
kathleen:
more than a year ago
This diaper cover doesn't have leg gussets for extra leak protection. We have had a leaky experience where the diaper cover itself had gotten too wet due to our heavy wetter which resulted in a wet pj. This cover is for small babies. Our son has gotten to 10lbs and the cover does not fit him anymore. I would not buy more of this kind.
Page
1