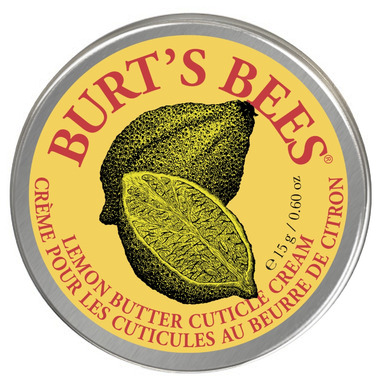 15 g
Burt's Bees Lemon Butter Cuticle Cream
is rated out of
5
by
32
.
---
Description
For the tender loving care of dry cuticles, lemon butter nails it in this Burt's Bees classic.
Features:

100% Natural
Moisturizes and softens cuticles with Sweet Almond Oil and Cocoa Seed Butter
Nourishes brittle nails with Vitamin E and Sunflower Oil
Fresh Lemon scent
How to Use:
Gently massage creme into cuticles after washing hands and as needed.

Ingredients:
Prunus amygdalus dulcis (sweet almond) oil, beeswax, citrus medica limonum (lemon) peel oil, theobroma cacao (cocoa) seed butter, euphorbia cerifera (candelilla) wax, beta-carotenerosmarinus officinalis (rosemary) leaf extract, tocopherol, helianthus annuus (sunflower) seed oil, glycine soja (soybean) oil, canola oil, vegetable oil.
Highlights

Shipping & Returns
Rated

5

out of

5
by
Beenatural
from
Cuticle love
I bought this today and already am in love with this product. After a hour, my cuticles feel softer and my nails are shinier. I love the citrus scent. "Fragrances" make me sick but this natural lemon scent is divine. It made my mouth water a little bit. I like the tin but agree with other reviews that it is tricky to open. I even placed a few rubs on my poor dry, cracked heels. Immediate relief and am so impressed. I will be a frequent user of this item now. I do not find it greasy at all but my hands are always quite dry. I found it sunk in rapidly and provided fast moisture that has lasted even after hand washing.
Date published: 2017-03-25
Rated

5

out of

5
by
Claudine
from
Absolutely amazing (funny review)
So, I received a pouch with various products in it 2 years ago as a gift. I've been using what I assumed was lip balm for the past 2 years on my lips. It said Burt's bees on the container and had lemons on it and when I opened it, it smelled yummy so.... I've been using it on my lips. Fast forward to a couple of days ago, my daughter wanted to buy some lip balm. I went and got my container and showed it to her saying.... see this one is really good and smells like lemon, then I start to read what's on the top to her..."Burt's bees lemon butter cuticle cream". They both started laughing. I'm still going to use it as a lip balm because it's amazing.
Date published: 2021-02-03
Rated

5

out of

5
by
Xborder
from
Back in business!
I have relied on this for decades, buying it in Vermont, 10 mins across the NOW CLOSED border! My cuticles ripped, my skin bled and my nails peeled - yuck. When I found it on well.ça I ordered three immediately - whew, back in business.
Date published: 2021-04-09
Rated

5

out of

5
by
Pebbles
from
Best
I love this product, I use it all over my nails! My cuticles are not gross and peeling anymore, there pretty and soft and normal again. I'm actually finding that even my actual nails aren't peeling as often anymore and it smells nice. My hands are lushes and wonderful. Their girly again and a lot of it is because of this product. I only don't like the container because it's hard to open. I would recommend this product to anyone whom bites their nails, has a hard time growing nails, has nails that peel, cuticles that tear, and anyone else for that matter :) I'll be buying this item again, very soon! Love it!.
Date published: 2013-08-06
Rated

5

out of

5
by
Snorky
from
Been a fan for years....love !!!
I have used this product for years. I ran out and could not find it in my regular store.....so have been without for a week. Boy do I miss it! Especially with the colder weather....yard work etc. I was reminded again when I finished cleaning paintbrushes and wanted to use some on my dry hands. Gotta get some ! I love the lemon smell. I use it for all rough spots. My cuticles, general nail area, elbows, toes and toenails, and its great on dry heels too! My daughter loves it too . Shes a nail biter and has real dry heals. I cant say enough about this great product !!
Date published: 2017-11-11
Rated

5

out of

5
by
Jeanie
from
Lemon Butter 'Bliss'
(This review was collected as part of a promotion.) This little tin comes with me wherever I go...lightweight, compact and full of citrus! Sitting in the car on long drives, I massage it into my cuticles and hands...onto my feel on rough, dry places...and the scent refreshes and always sends a lot of compliments my way....even from folks who have smelled this before! The cream is nourishing and moisturizing and repairs the damage that I do to my hands in the garden. Thanks for making something so lovely, so affordable, so travel-friendly and so freakin' useful!!!!
Date published: 2016-06-14
Rated

1

out of

5
by
Abbey12
from
Formula Change...Why!
I have been using Burt's Bees Lemon Butter Cuticle Cream for years and loved it not only for cuticle care but also for my chapped lips, it worked so much better than lip balm. I was so disappointed when I purchased it today and found the formula had changed. The lovely lemon smell is gone, it now smells a bit like Vicks Vapo Rub, and the consistency is hard, waxy and sticky. What a disappointment!
Date published: 2019-05-30
Rated

5

out of

5
by
mtbchick
from
Great to soothe inflamed/ dry skin
I have a bad habit of biting the skin around my nails/ cuticles, and this product helps to moisturize and heal them. Plus it smells wonderful! I also use it on my toes, where I am missing a toenail + have scars from an injury. The creme keeps the nail bed hydrated, which is otherwise dry and flaky. A lifesaver since I am very self conscious about it.
Date published: 2011-06-03