CanPrev Aquatein Vegan Superprotein Shake Bundle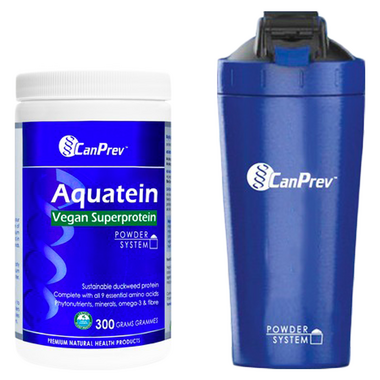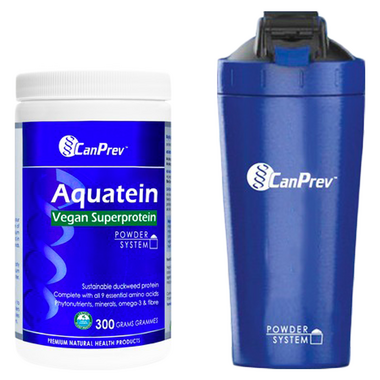 CanPrev Aquatein Vegan Superprotein Shake Bundle

Enjoy your protein shake anytime, anywhere with the CanPrev Aquatein Vegan Superprotein Shake Bundle.

Bundle Includes:
CanPrev Aquatein Vegan Superprotein - 300g
CanPrev Powder System Shaker Cup - 28oz
CanPrev Aquatein Vegan Superprotein
An extraordinary single-source protein, sustainably sourced and incredibly high in micronutrients.

Features:

Sustainable duckweed protein rich in phytonutrients, minerals, omega-3 fatty acids, and fibre.
Aquatein is a highly digestible, nutrient-dense, aquatic plant protein. It's complete with all 9 essential amino acids. It provides a fuller spectrum of essential and branched-chain amino acids compared to any other plant protein.
1 scoop of Aquatein provides 15mg of naturally occurring lutein and 171mg of naturally occurring chlorophyll
Directions: Mix 1 scoop with purified water, a smoothie or beverage of your choice. Stir well and enjoy. Store in a cool dry place.

Ingredients: (1 scoop) LENTEIN® Duckweed Protein Powder (Lemna minor, wolffia spp.) 22g
CanPrev Powder System Shaker Cup
Perfect for your morning shake, re-hydration during an intense workout, and evening dose of ElectroMag.
Features:

Leak-proof silicon flip cap
Stainless steel
BPA-free
Easy to use and easy to clean
28oz of shaking capacity