CanPrev Core Daily Performance Shake for Men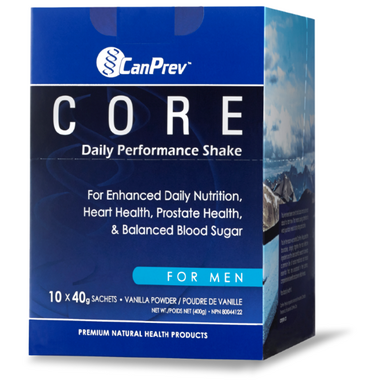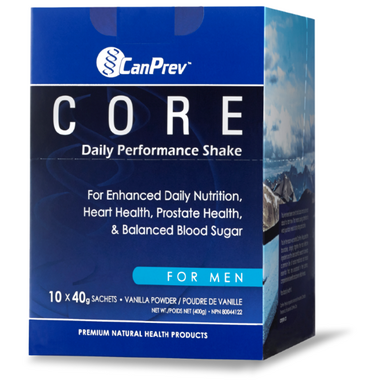 CanPrev Core Daily Performance Shake for Men
CanPrev Core. Delicious, Clean and Therapeutic.

CanPrev Core daily performance shakes for men and women deliver advanced formulations you've come to expect from CanPrev. With gender-tuned multis and therapeutic nutrients like CoQ10, cranberry, lycopene & cinnamon bark. 18g complete plant protein, 7g fibre, 5g whole greens and berries. All in a pure, clean vegan format free of wheat, gluten, soy and nuts.

Directions: Adult men: add 2 rounded scoops (40g) to 250ml of your favourite beverage and shake well. For a delicious smoothie, blend with a ½ cup of fresh or frozen fruit. Enjoy every day for optimal health.

Ingredients: Per 1 pouch (40g): Plant Protein Blend 18g; Yellow Pea Protein (Pisum sativum) 13g, Brown Rice Protein (Oryza sativa) 5g.
Greens Blend 4g; Beet Root Powder (Beta vulgaris) 900mg, Broccoli Powder (Brassica oleracea var. italica) 750mg, Parsley Leaf Powder (Petroselinum crispum) 725mg, Kale Powder (Brassica oleracea var. acephala) 525mg, Spinach Leaf Powder (Spinacia oleracea) 500mg, Alfalfa Leaf & Stem Extract 4:1 (Medicaga sativa) 125mg, Chlorella Powder(Chlorella vulgaris, broken cell) 100mg.
Superfruit Blend 1g: Cherry Fruit Powder (Prunus avium) 250mg, Blueberry Fruit Powder (Vaccinium corymbosum) 200mg, Goji Fruit Juice Powder (Lycium barbarum) 200mg, Mangosteen Fruit Powder (Garcinia mangostana) 150 mg, Acai Fruit Extract 4:1 (Euterpe oleracea) 50mg.

Delivering: Vitamin A (acetate) 1500IU/444mcg RAE, Beta-carotene 600 IU/360mcg, Vitamin C (ascorbic acid) 60 mg, Vitamin D2 (ergocalciferol) 1000IU/25mcg, Vitamin E (d-alpha) 30IU/20mg AT, Vitamin K1 (phytonadione) 36mcg, Vitamin B1 (thiamine hydrochloride) 15mg, Vitamin B2 (riboflavin) 15mg, Vitamin B3 (niacinamide) 15mg, Vitamin B5 (calcium pantothenate) 15mg, Vitamin B6 (pyridoxine hydrochloride) 15mg, Vitamin B7 (biotin) 30mcg, Vitamin B9 (folic acid) 240 mcg, Vitamin B12 (methylcobalamin) 150mcg, Choline (bitatrate) 6mg, Inositol 6mg, Lutein (Marigold) 1.8mg, Calcium (citrate) 200mg, Chromium (polynicotinate) 45mcg, Copper (citrate) 500mcg, Iodine (brown kelp powder) 100mcg, Magnesium (bisglycinate) 110mg, Manganese (citrate), 1.5mg, Molybdenum sodium molybdate 100mcg, Potassium (citrate) 100mg, Selenium (selenium yeast) 50 mcg, Vanadium (vanadyl sulfate) 15mcg, Zinc (citrate) 5mg.
Cassia Cinnamon bark Extract 4:1 (Cinnamomum aromaticum) 750mg, Coenzyme Q10 30mg, Lycopene 6.5mg.

Non-Medicinal Ingredients: Psyllium husk powder, apple pectin, inulin, guar gum, natural green tea flavour, natural french vanilla flavour, natural vanilla flavour, xylitol, organic stevia.

Consult a healthcare practitioner prior to use if you are following a low protein diet or if you have diabetes or a blood clotting disorder. May cause temporary gas or bloating. Allergy to acai, plants of the Arecaceae family, and inhaled or ingested psyllium has been known to occur. Discontinue use if you experience any allergic reaction. Consult a healthcare practitioner prior to use if you are taking antiplatelet medications or blood thinners.

Vegan, Dairy free, Soy free, Gluten free, Nut free, No artificial colours, flavours or preservatives.