Captain Blankenship Lime and Coconut Sweet and Salty Scrub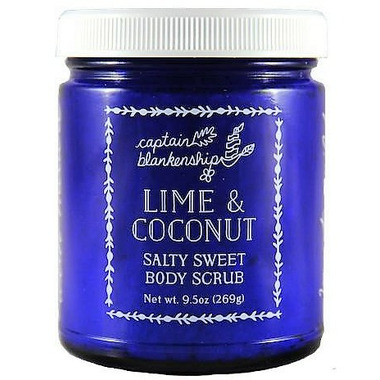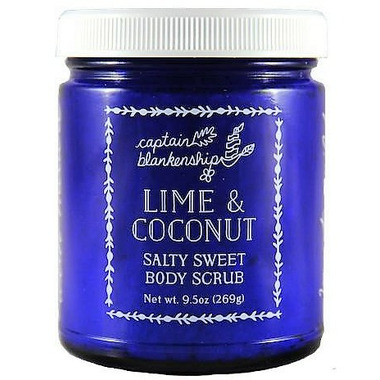 Captain Blankenship Lime and Coconut Sweet and Salty Scrub
An organic sea salt, sugar and plant oil based scrub that gently exfoliates, deeply moisturizes skin and has an invigorating citrus scent. It will leave your senses refreshed and your skin soft and glowing.
Features:

Organic cane sugar and sea salt slough off dead skin cells
Organic Coconut Oil is deeply moisturizing, antibacterial and anti-inflammatory, plus it smells amazing
Organic Sunflower Oil is rich in Vitamins A,E & D and is an incredible emollient, helping skin retain moisture
Organic Shea Butter is high in antioxidants and leaves skin deeply nourished and soft
Organic Lime, Lemon and Vetiver Essential Oils create a delicious and grounding citrus scent
Directions: Massage a handful of scrub into wet skin. Rinse. The scrub is gentle enough to be used on face and lips, just make sure to keep out of eyes. It can also be added to the bath for a detoxifying and sweet smelling soak.
Ingredients: Sea Salt, Organic Cane Sugar, Organic Coconut Oil, Organic Sunflower Oil, Organic Shea Butter, Non-GMO Vitamin E,Organic Lime Essential Oil, Organic Lemon Essential Oil & Organic Vetiver Essential Oil
Cruelty Free, Natural, Organic