Captain Blankenship Petal Gentle Mask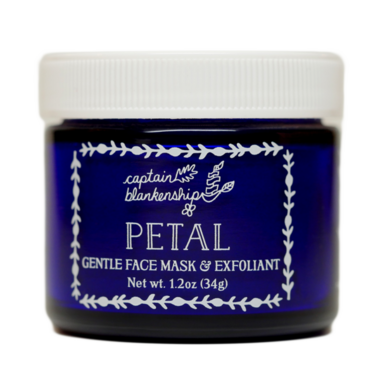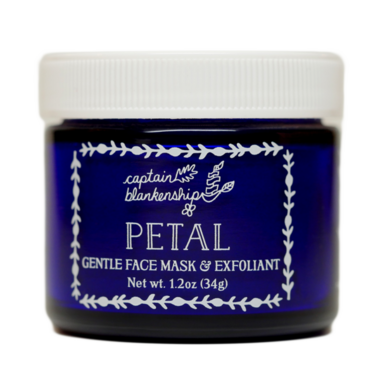 Captain Blankenship Petal Gentle Mask
- We're sorry, this product is no longer available!
- Shop for other products in: Face Masks

A lightly exfoliating and hydrating mix of organic flower petals and French Pink Clay that can be used as both an exfoliant and gentle face mask. It will softly exfoliate and rejuvenate your skin, leaving it smooth and dewy. Good for all skin types but especially sensitive, dry and mature skin.
Features:

Organic Rose Petal Powder hydrates and soothes skin and smells like roses
Organic Hibiscus Powder is full of natural alpha-hydroxy acids, which exfoliate skin, help skin generation, help control breakouts, as well as improving skin elasticity
French Pink Clay is a very mild rosy hued clay that is wonderful for gently cleaning and polishing
Organic Chamomile Powder calms skin
Organic Lavender Powder is a natural antiseptic that helps tone skin
Organic Rosehip Seed Powder lightly exfoliates skin
Organic Rose Essential Oil uplifts the spirit and is a gently healing and anti-inflammatory oil
Wild harvested Carrot Seed Oil is high in antioxidants, Vitamin E and Vitamin C, helping rejuvenate and repair skin

Directions: Mix ½ teaspoon mask to ½ teaspoon water or as needed to reach desired consistency. Spread onto skin with fingers or brush in circular motion. Leave on for 3-5 minutes until dry but not hardened. Remove with warm wet washcloth or rinse with warm water. Can also be used as face scrub.

Ingredients: Organic Rose Petal Powder, Organic Hibiscus Powder, French Pink Clay, Organic Chamomile Powder, Organic Lavender Powder, Organic Rosehip Seed Powder, Organic Rose Essential Oil and Wild harvested Carrot Seed Oil.


Cruelty Free, Natural, Organic