Central Roast Camu Dried Cranberries
Apple Juice Sweetened
225g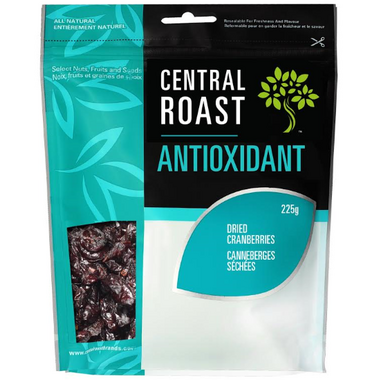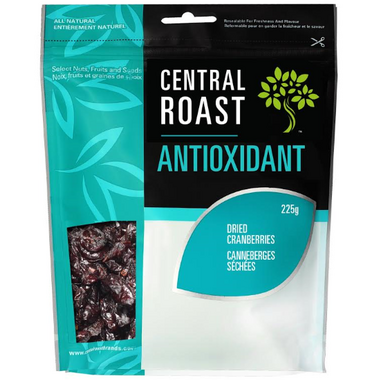 Central Roast Camu Dried Cranberries
Apple Juice Sweetened
225g
Central Roast deep red cranberries - sun-dried and sweetened with apple juice. The resulting chewy texture, combined with tartness, makes for a great healthy snack or the perfect addition to a recipe. Good source of Fibre, Vitamin C, and is sodium free.
Health Benefits:


Dried Cranberries contain a powerful cocktail of protective phytonutrients; plant chemicals that contain protective, disease-preventing compounds (flavonoids and phenolic acids) that act as antioxidants in the body. Oxygen Radical Absorbance Capacity or ORAC (measurement of antioxidant strength of food items) demonstrates cranberry at an ORAC score of 9,584 µmol TE units per 100 g, one of the highest in the category of edible berries. Did you know that Cranberries do not grow in water, but on low-running vines in marshes? When the fruit is ripe, the marsh is flooded. The floating berries are then more easily harvested.
Camu Camu is a low-growing shrub found throughout the Amazon rain forests of Peru and Brazil. Its powerful phytochemicals and amino acids have a surprising range of therapeutic effects: It strengthens the immune system, energizes the body, promotes mood balance and is an antioxidant. A single serving of our Camu Almonds provides you with 70% of your RDI of vitamin C!

Ingredients:
Cranberries, apple juice concentrate, sunflower oil, camu powder.