Central Roast Indulgence Granola
Macadamia Nut & Vanilla
325g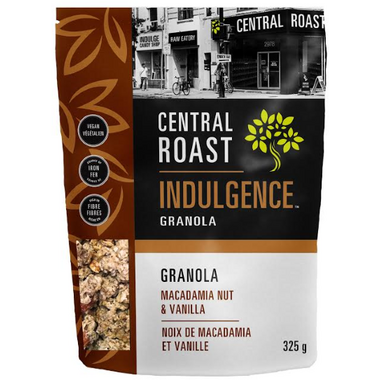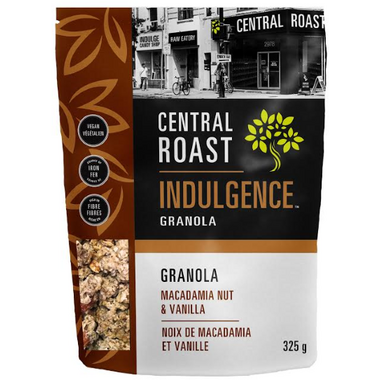 Central Roast Indulgence Granola
Macadamia Nut & Vanilla
325g
- We're sorry, this product is no longer available!
- Shop for other products in: Granola

An indulgent mix of oats, almonds, macadamias, black chia seeds and vanilla - artisan baked to perfection until golden and crunchy.

Health Benefits:

Oats
are loaded in dietary fiber (containing more than any other grain) and have a range of healthy cholesterol-lowering properties. Oats are an excellent source of manganese, a very good source of phosphorus as well as a good source of copper, biotin, vitamin B1, magnesium, dietary fiber, chromium, zinc, and protein.

Almonds
are a rich source of fiber, protein, heart-healthy fat, antioxidants and vitamins and minerals, making them a one-stop food.
Macadamia Nuts
are a source of vitamin A, iron, protein, thiamine, riboflavin and niacin. They also contain small amounts of selenium (an antioxidant), calcium, phosphorus, potassium and magnesium.

Flaxseeds
(also called linseeds) are a rich source of micronutrients, dietary fiber, manganese, vitamin B1, and the essential fatty acid alpha-linolenic acid, also known as ALA or omega-3. The seeds come from flax, one of the oldest fiber crops in the world - known to have been cultivated in ancient Egypt and China.

Black Chia Seeds
are a "whole grain" food that are naturally free of gluten. Despite their tiny size, chia seeds are among the most nutritious foods on the planet - loaded with fiber, protein, Omega-3 fatty acids and various micronutrients.

Vanilla Extract
contains numerous antioxidants, including vanillic acid and vanillin. Antioxidants protect your body from damage from harmful components, such as free radicals and toxins.

Ingredients:
Oats, organic tapioca syrup, sunflower oil, honey, dry roasted almonds unsalted (almonds, potato starch, citric acid), dry roasted macadamia nuts sea salted (macadamia nuts, sea salt), organic brown rice crisps, flaxmeal, cane sugar, organic brown rice flour, vanilla extract (ethyl alcohol, water, vanilla beans, glycerine), organic black chia seeds, kosher salt.