CeraVe Beauty Routine Bundle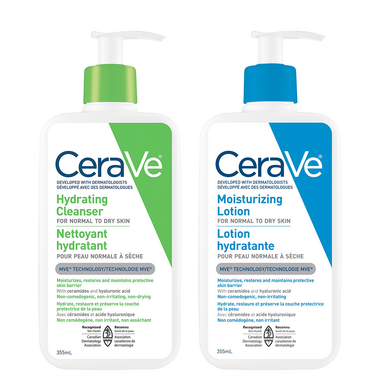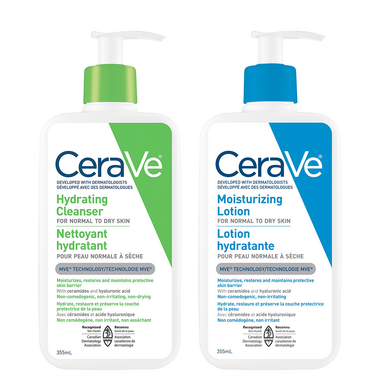 CeraVe Beauty Routine Bundle
CeraVe®'s Cleanser and Lotion are both recognized by the Canadian Dermatology Association's Skin Health Program and recommended by the Dermatology Review Panel.
Bundle Includes:
CeraVe Hydrating Cleanser - 355 mL
CeraVe Moisturizing Lotion - 355 mL
Cleanser Details:
CeraVe® Hydrating Cleanser provides gentle, effective cleansing while replenishing the skin's moisture barrier.

The goal of effective cleansing is to loosen and remove dirt, germs, excess oils, dead cells, cosmetics and medication residues without irritating the skin or drawing away needed moisture. Make CeraVe® Hydrating Cleanser a vital part of your daily skin care regimen. CeraVe® Hydrating Cleanser is ideal for normal to dry skin types and can be used on the face and body. Use daily morning and night to gently remove dirt, oil and makeup without disrupting the skin's natural protective barrier. Never drying, ceramides help moisturize, restore and maintain the skin's natural protective function.
Ingredients:
(alphabetical order)
BEHENTRIMONIUM METHOSULFATE AND CETEAYL ALCOHOL
CARBOMER
CERAMIDE 1
CERAMIDE 3
CERAMIDE 6-II
CETYL ALCOHOL
CHOLESTEROL
DIPOTASSIUM PHOSPHATE
DISODIUM EDTA
GLYCERIN
GLYCERYL MONOSTEARATE
HYALURONIC ACID
METHYLPARABEN
PHYTOSPHINGOSINE
POLYOXYL 40 STEARATE
POLYSORBATE 20
POTASSIUM PHOSPHATE
PROPYLPARABEN
PURIFIED WATER
SODIUM LAUROYL LACTYLATE
Lotion Details:
CeraVe® Moisturizing Lotion provides all-day moisturization with a single application.

Moisturizing Lotion is uniquely formulated to increase the skin's ability to attract, hold and distribute moisture. It penetrates deeply into the stratum corneum (the skin barrier) to restore the balance of essential lipids. This helps keep the skin barrier intact so it can limit moisture loss.
Ingredients:
(alphabetical order)
BEHENTRIMONIUM METHOSULFATE AND CETEAYL ALCOHOL
CAPRYLIC/CAPRIC TRIGLYCERIDE
CARBOMER
CERAMIDE 1
CERAMIDE 3
CERAMIDE 6-II
CETEARETH-20 AND CETEARYL ALCOHOL
CETYL ALCOHOL
CHOLESTEROL
DIMETHICONE
DIPOTASSIUM PHOSPHATE
DISODIUM EDTA
GLYCERIN
HYALURONIC ACID
METHYLPARABEN
PHYTOSPHINGOSINE
POLYGLYCERYL-3 DIISOSTEARATE
POLYSORBATE 20
POTASSIUM PHOSPHATE
PROPYLPARABEN
PURIFIED WATER
SODIUM LAUROYL LACTYLATE
XANTHAN GUM