Chickapea Pasta Organic Chickpea & Lentil Vegan Mac
Chickapea Pasta Organic Chickpea and Lentil Vegan Mac
is rated out of
5
by
15
.



Good with every bite. Chickapea Vegan Mac is made plant based ingredients and dairy free! Organic chickpea and lentil pasta with creamy sweet potato and pumpkin sauce
Features:
17g of protein per 100g serving
7g of fibre per serving
Certified B Corporation
Organic
Dairy free
Gluten Free
Vegan
Non GMO
Ingredients:
Organic Chickpea And Lentil Pasta (Organic Chickpea Flour, Organic Yellow Lentil Flour, Organic Red Lentil Flour), Organic Vegan Seasoning (Organic Pumpkin Powder, Organic Sweet Potato Powder, Organic Tapioca Starch, Organic Cauliflower Powder, Sea Salt, Organic Yeast Extract, Organic Onion Powder, Organic Sweet Paprika, Organic Garlic Powder).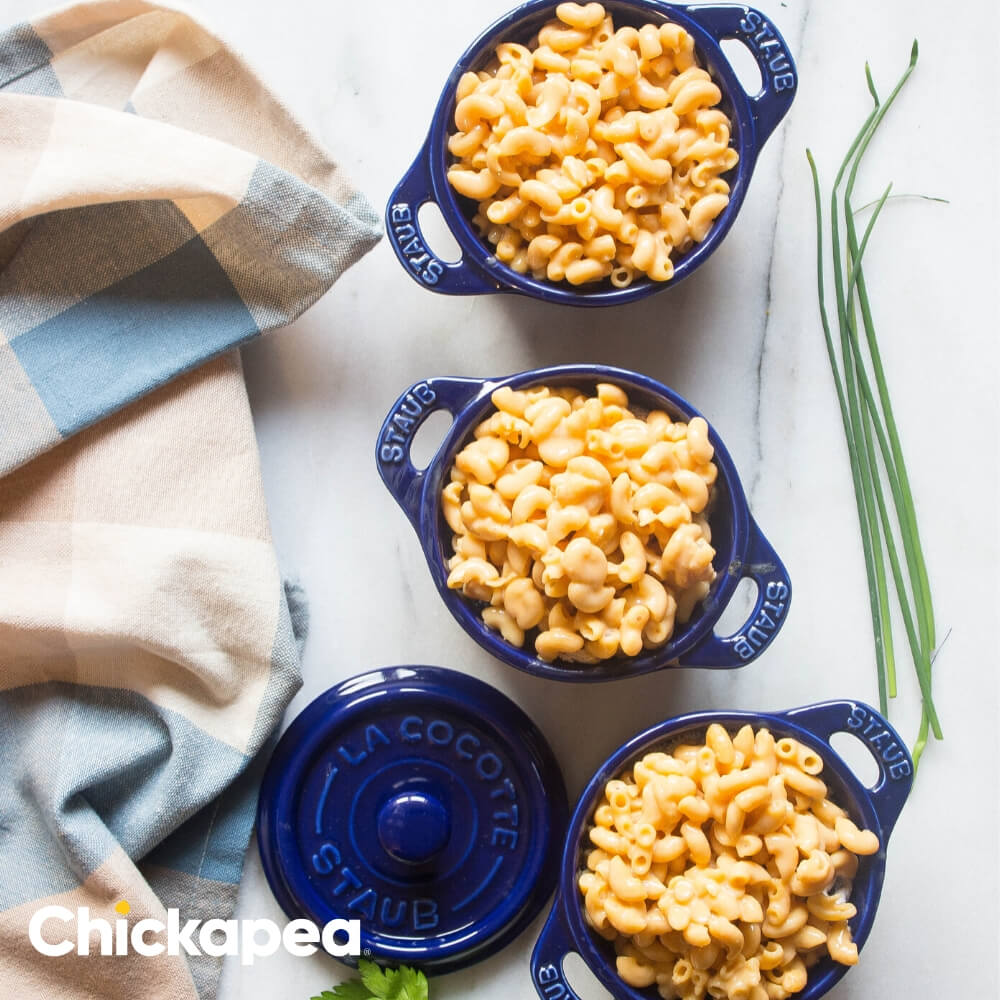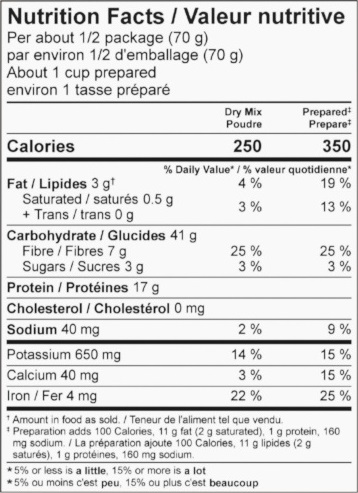 Similar Macaroni & Cheese
Other Chickapea Pasta Products
Rated

5

out of

5
by
Karly
from
Love love love! Eat it every day!
Leaving this review since I'm amused by all the 1 star ones. A) This pasta isn't trying to taste like cheese. It does not taste like KD, if that's what you're going for, you'll be disappointed lol. I add some extra garlic powder and onion salt to mine and literally devour a box daily. I personally think it's delicious, especially if I add some vegan sausage or yummy veggies. B) it's $6 for a box which is two pretty filling meals. I don't think $3 is all that expensive for a meal but to each their own. C) You are getting SO MUCH nutrients for this $3 (or $6 if you're really hungry). These are full of protein, fibre, iron, calcium and potassium.
Date published: 2021-01-28
Rated

5

out of

5
by
Stevie
from
I love this stuff!
The bad reviews on this product had me intimidated, but I actually love this vegan Mac! It has a very earthy pumpkin flavour with garlic and onion undertones. Super amazing. And so much protein and fibre!!
Date published: 2020-10-03
Rated

2

out of

5
by
tigerlily
from
New to Vegan and Gluten
The overall make of the product was great in presentation though, when it came to taste and texture I found it to be a bit bland. I am new to vegan and gluten free said food so as much as my first box didn't taste well I definitely will give it another try.
Date published: 2020-05-21
Rated

4

out of

5
by
Kate G
from
Great alternative to mac n cheese
I have a wheat and dairy allergy so this is one of the only comfort foods I can have that tastes good and is healthy! I would recommend adding soft goat cheese when you make it for a more cheesy flavour
Date published: 2021-03-01
Rated

2

out of

5
by
Ka
from
Pretty tasteless
Love the pasta but this really isn't a substitute for Mac and cheese type meals. I would skip this and just combine the noodles with any other yummy sauce!
Date published: 2020-11-25
Rated

1

out of

5
by
Audrey
from
Did not like
I got tricked into buying this vegan mac a few weeks ago when most (if not all) of the reviews were 5/5. I can eat anything, but this meal was pretty disappointing - my partner would not even taste it. I found it tasteless and the texture was crumbly, similar to that of a real mac & cheese leftover out of the fridge. For the price, I would definitely not recommend this product.
Date published: 2020-05-10
Rated

5

out of

5
by
Mrich
from
Pantry staple
I love this stuff, perfect for a day when I just need a quick meal between jobs. Even better if you add veg.
Date published: 2020-03-17
Rated

1

out of

5
by
Elana
from
If I could give negative stars, I would
This stuff is horrendous. I cannot understand how anyone thinks this stuff is good. The smell is disgusting, but I decided to taste it anyhow - a horrible mistake. This does not taste anything like cheese (I would suggest maybe it tastes like dirty feet) and the texture is gag inducing. Do NOT recommend. I wouldn't feed this to my enemies.
Date published: 2020-11-30