Consonant Skincare 100% Natural Skin Renewal Set
Normal/Dry Skin
($70 Value)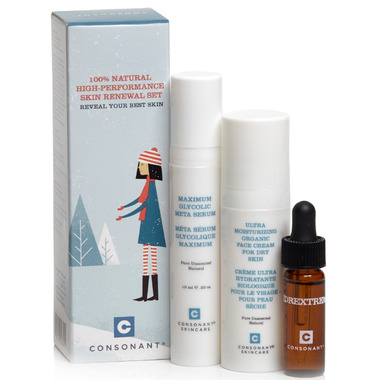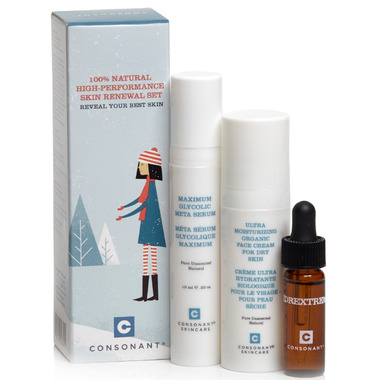 Consonant Skincare 100% Natural Skin Renewal Set
Normal/Dry Skin
($70 Value)
This Set has a full retail value of $70!

Consonant Skin Renewal Set will reveal your best skin in three easy steps. Resurface and refine with Maximum Glycolic Meta Serum, for more radiant skin from the very first use. Moisturize with Consonant Ultra Moisturizing Organic Face Cream for Dry Skin, formulated with antioxidant Grapeseed Oil, nourishing Avocado Oil, and stimulating natural source Niacinamide. Award-winning HydrExtreme amplifies hydration with potent and long-lasting Cassia Angustifolia and locks it into skin with Organic Glycerin. Renew your skin with this perfect combination of 100% natural, award-winning products.

Set contains:
HydrExtreme Hydration Boosting Serum (4ml)
Maximum Glycolic Meta Serum (10ml)
Ultra Moisturizing Organic Face Cream for Dry Skin (15ml)
Maximum Glycolic Meta Serum has the highest allowable concentration of alpha-hydroxy acids along with a blend of soothing botanicals for gentle yet powerful exfoliation. Non-irritating, non-drying and profoundly effective. Fragrance free. Non-comedogenic. Great for all skin types. 100% natural.
HydrExtreme attracts moisture to the skin and holds up to 1000x its weight in water to plump and hydrate for 24 hours. Clinically proven to outperform the most potent hydrator on the market. Oil free. 100% natural. Fragrance free. Non-comedogenic. Great for all skin types.

Ultra Moisturizing Organic Face Cream for Dry Skin works with your body's natural chemistry to regulate sebum production to keep skin hydrated. 100% natural. Frangrance Free. Great for normal to dry skin. Non-greasy.

To use: In the evening, after cleansing, apply a few pumps of Consonant Maximum Glycolic Meta Serum to dry skin avoiding the eye area. Allow to absorb completely and then follow with a few drops of Consonant HydrExtreme® and a few pumps of Ultra Moisturzing Organic Face Cream for Dry Skin. You can apply HydrExtreme and Face Cream separately or blended together in the palm of your hand. In the morning apply HydrExtreme to any fine lines and dry spots. Follow with 1-2 pumps of Consonant Organic Face Cream for Dry Skin.

Ingredients:

HydrExtreme: Cassia Angustifolia Seed Polysaccharide, Vegetable Glycerine.
Meta Serum: Water, Glycolic Acid, Lactic Acid, Propanediol, Glycerin, Citric Acid, Malic Acid, Salicylic Acid, Phragmites Communis Extract, Centella Asiatica Extract, Hibiscus Sabdariffa Flower Extract, Poria Cocos Extract, Sodium Lactate, Hydroxyethylcellulose, Niacinamide, Sodium PCA, Glycine, Fructose, Benzyl Alcohol, Benzoic Acid, Dehydroacetic Acid.
Cream: Aqua/Water, Glyceryl Stearate,Glycerin, Angustifolia Seed Polysaccharide, Vitis Vinifera Seed Oil*, Olea Europea Fruit Oil*, Butyrospermum Parkii*, Caprylic/Capric Triglyceride, Oenothera Biennis Seed Oil*, Argania Spinosa Oil*, Borago Officinalis Seed Oil*, Persea Gratissima Seed Oil*, Cetyl Alcohol, Triticum Vulgare Germ Oil, Linum Usitatissimum Seed Oil*, Simmondsia Chinensis Seed Oil*, Glucose & Lactoperoxidase & Glucose Oxidase, D-Alpha Tocopherol, Niacinamide, Algae*, Panax Ginseng Root Extract*, Chamomilla Recutita Leaf Extract*, Aloe Barbadensis Leaf Extract*, Echinacea Angustifolia Leaf Extract*, Cucumis Sativus Extract*, Rosemarinus Officinalis Extract*, Calophyllum Tacamahaca, Alpha Bisabolol, Malileuca Alternifolia Leaf Oil, Lecithin, Xanthan Gum,Citric Acid.