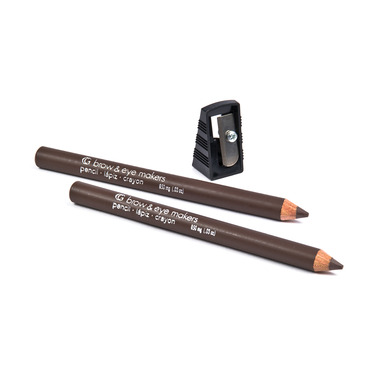 Rich Brown (505)
2 Count
CoverGirl Brow and Eyemakers Pencil
is rated out of
5
by
14
.
---
Description
Create beautiful brows and get the eyeliner looks you want with these twin pencils. Both have soft colour and are incredibly versatile. Use them to naturally enhance and fill out brows, or sweep them along your lash line for a soft-liner look. These little pencils do a lot of beautiful work!
Rated

1

out of

5
by
Annalise
from
What happened to this once great product????
I used this product for years, with perfect results. This new formula is awful. The inner core ("lead" for lack of a better term), is weak and crumbles/breaks apart. Everytime you sharpen the pencil, it breaks again. It seems the lead is broken/fragmented within the wood outer shell. As a result, the product is often rendered useless- as large portions of the lead fall out. Leaving you to sharpen the empty shell until you get to another fragment of lead....only for that to fall off too. One batch was so bad, I wasted an entire pencil! This new formula is so bad that CoverGirl would need to sell this in a 10 pack to equal the standard 2 pack of the old formula! What a shame.....
Date published: 2019-08-17
Rated

2

out of

5
by
JennH1307
from
Holy Grail pencil
My hair is dark but very fine and thin, I have virtually no brow hairs and what i do have is extremely sparse and fine. I have been using this brow pencil in Rich Brown (used to be called Midnight Brown) for 20 years. I have tried many other brands over the years but the colour never matches like this one. The tip sharpens to a fine point to ensure fine stroke lines using a light to medium hand. My complaint is that I can go through a pencil a week due to the fact the lead is broken in numerous spots throughout the pencil. This leads to excessive sharpening and wasting half the pencil. I still go back to it because of the colour match for me. Wish the quality would improve without compromising the colour or the way it goes on my skin so easily.
Date published: 2021-12-09
Rated

5

out of

5
by
kylak9
from
looks natural
I've tried lots of different brands but this one looks the most natural and doesn't cake. Trouble is I need blonde and it's out of stock.
Date published: 2020-08-25
Rated

1

out of

5
by
kwatch
from
Very disappointing!
I purchased this today thinking I'd give it a try and I guess I should have checked reviews first.... the pencil is SO HARD I feel like I'm trying to fill my eyebrows with actual pencil crayons. I have to press so hard for color to show that it actually hurts, super upsetting because I usually love cover girl products!
Date published: 2020-02-28
Rated

1

out of

5
by
kaaaygirl
from
WHAT HAPPENED
I have bought this pencil for many many years and lately, I've been finding the formula so weak that every time I use it, the product just crumbles and I find myself sharpening the entire pencil into the garbage!!! I just started using a new pencil yesterday out of a pack I JUST bought a week ago and I've already sharpened half because even sharpening wasn't helping!!
Date published: 2018-07-20
Rated

5

out of

5
by
LeahNicole
from
BEST PENCIL
Been using this pencil for years now, always get compliments on my brows. Always consistent and very affordable. Nobody would know it's not some big luxury brand pencil. Goes on smooth and at this point I can't use anything else. Not easy to find here in my small town in Canada so I have to buy a few at a time. I always use Black.
Date published: 2020-06-06
Rated

5

out of

5
by
covergirl222
from
Love it for my brows!! I know its for your brows.. but i also use it as an EYELINER at the bottom of my eyes! its great for my eyes because it not to dark! it works sooo well! One of my fav products from cover girl!
Date published: 2012-07-30
Rated

5

out of

5
by
bimbej
from
Cover girl easy breezy brow
I love the pencils makes drawing my brows so easy . I found my perfect shade its difficult to fine the right shade for my brow and its long lasting too. The other part to fill in the brow
Date published: 2022-02-16