Cygen Labs Phytogreens Fruit Punch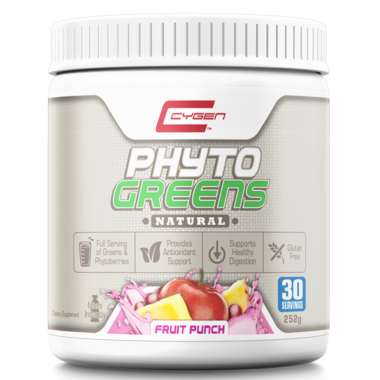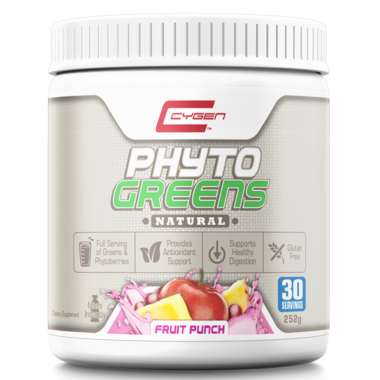 Cygen Labs Phytogreens Fruit Punch
Cygen Labs PhytoGreens Natural is an all natural greens & phytoberry blend that provides your body with the fuel it needs to maintain an increased level of general health and wellness. It is a convenient way to reap the benefits of both a full serving of greens and phytoberries, providing you with antioxidants, and healthy cleansing and digestion upkeep which is crucial to performance and recovery.

Cygen PhytoGreens Natural is a clean powder that is free from any artificial colours, flavours, and sweeteners and is also Gluten Free, which makes it a quintessential supplement for anyone looking to become better and healthier in the cleanest way possible.

Directions:
As a dietary supplement, mix 1 scoop of Cygen Phytogrenns in 200ml of cold water and shake well. For optimal results mix 2 scoops of Cygen Phytogrenns in 400ml of cold water and shake well.

Ingredients:
Natural Flavour, Citric Acid, Organic Evaporated Cane Juice, Stevia Leaf Extract, Silicone Dioxide, Malic Acid.