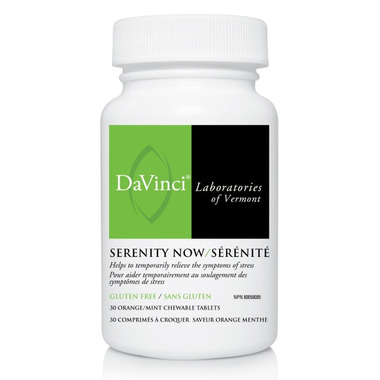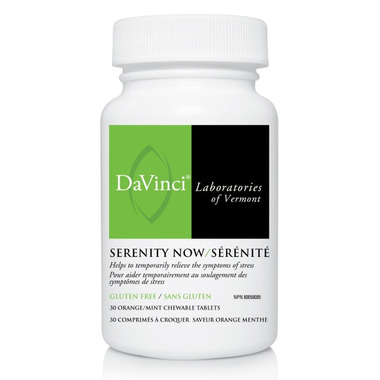 A natural health product to support stress management. Serenity Now is
pleasant tasting, an orange/mint flavored chewable tablet, designed to support relaxation and stress management. Helps to temporarily promote relaxation and relieve symptoms of stress.

Serenity Now helps the body manage stress without causing drowsiness, impairing cognitive or motor functions, affecting emotional balance, or personality. It contains nutrients not found in other calming formulas, which help the body cope with stressful situations.

Serenity Now combines Suntheanine Brand L-Theanine and Lactium, a bioactive peptide found in milk protein hydrolysate.* Both have been extensively researched for their calming and relaxing properties

Dosage: As a dietary supplement, chew 1 tablet, once or twice daily, or as directed by your healthcare practitioner.

Active ingredients (each tablet contains): L-Theanine 100 mg
Milk protein hydrolysate (Alpha S1-Casein Tryptic Hydrolysate) 75 mg

Other ingredients: xylitol, peppermint flavour, artificial orange flavour, magnesium stearate, stevia rebaudiana leaf. Contains: Milk.

Cautions: If pregnant or breastfeeding, consult a healthcare practitioner prior to use. Recommended Duration of Use: Consult a health care practitio-
ner for use of more than one month. Contraindications: Do not use with antidepressants or anxiolytics.