Deep Steep Baby A & E Ointment
Protects Against Thrush, Rashes, and Bug Bites
3 oz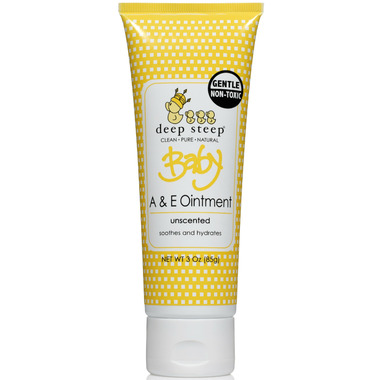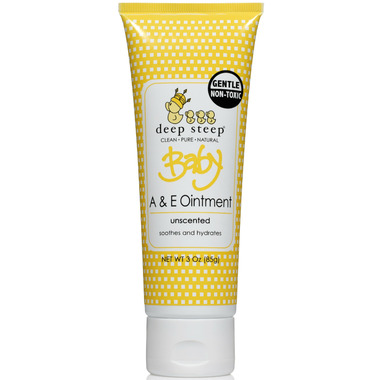 Deep Steep Baby A & E Ointment
Protects Against Thrush, Rashes, and Bug Bites
3 oz
- We're sorry, this product is no longer available!
- Shop for other products in: Lotion & Cream

Deep Steep's natural coconut and sunflower based ointment gently soothes and protects sensitive skin against discomfort from thrush, bug bites, scrapes and burns. It's formulated with Organic Sage and Dandelion, both rich in natural vitamins A & E. Toxin and Lanolin free, and full of nourishing properties, it's the perfect ointment for babies of all ages.

Made with 100% Vegan, USDA Certified Organic, Non-GMO, and sustainably sourced botanicals that gently cleanse and hydrate sensitive skin. Made in small batches in the USA.

Ingredients: Organic Helianthus Annuus (Sunflower) Seed Oil, Organic Salvia Officinalis (Sage) Leaf Extract, Organic Cocos Nucifera (Coconut) Oil, Organic Theobroma Cacao (Cocoa) Seed Butter, Hydrogenated Vegetable Oil, Tocopherol E, Organic Taraxacum Officinale (Dandelion) Root Extract, Organic Rosmarinus Officinalis (Rosemary) Leaf Extract.

No petroleum, gluten, animal derivatives, SLS, parabens, phenoxyethanol, synthetic fragrances, ethylhexylglycerin, benzyl acetate, PEG, propylene glycol, benzyl alcohol, eye numbing agents, sodium nitrate, chemical stabilizers, de-freezing agents, or bee by-products.