Degree Men Clinical+Clean Anti-Perspirant Stick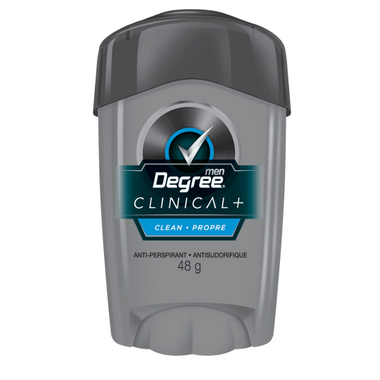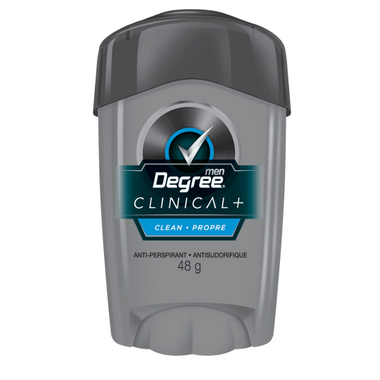 Degree Men Clinical+Clean Anti-Perspirant Stick
Degree Men Clinical+® Antiperspirant Deodorant Clean provides the most advanced protection against sweat and body odour. The Degree Men Clinical+ formula creates a deep protective layer across your sweat glands. It's especially effective when used at night and responds to your body's chemistry, giving you long-lasting clinical protection - even after a shower in the morning.

Degree Men Clinical+ helps prevent body odour and creates a fresh smell, giving you all day confidence to live your life to the fullest. Degree Men Clinical+ Antiperspirant Deodorant Clean contains Degree® innovative MotionSense technology. It works like this: unique microcapsules sit on the surface of your skin. When you move, friction breaks those microcapsules and they release more fragrance. So every time you move, MotionSense keeps you fresh and protected from odour.

For maximum protection, apply to underarms before going to bed. While resting, the TRIsolid formula acclimates to the body, forming a deep level of protection. This protection lasts throughout the following day, even after a shower. Degree Clinical Protection can also be applied in the morning.
Ingredients: Cyclopentasiloxane, Aluminum Zirconium Tetrachlorohydrex GLY, Dimethicone, Paraffin, Microcrystalline Wax, Parfum, Silica, Caprylic/Capric Triglyceride, Sodium Starch Octenylsuccinate, Dimethicone Crosspolymer, Hydrated Silica, Maltodextrin, Gelatin Crosspolymer, Hydrolyzed Corn Starch, Cellulose Gum, BHT.