Derma E Therapeutic Tea Tree and Vitamin E Antiseptic Cream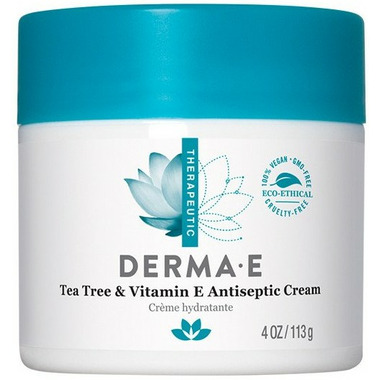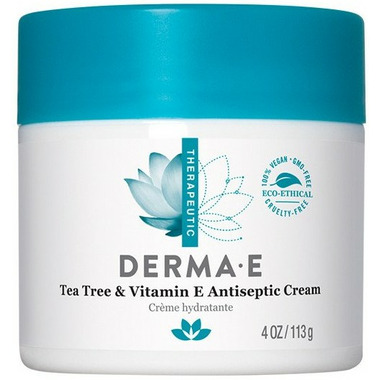 Derma E Therapeutic Tea Tree and Vitamin E Antiseptic Cream
Derma E's soothing, deep-moisturizing cream blends Tea Tree (5%) with Vitamin E (3,000IU) and other synergistic herbs, vitamins and natural oils to comfort skin from a wide variety of conditions such as cuts, scrapes, blemishes, fungal issues, ringworm, blisters, rashes, insect bites, poison ivy, skin overexposed to the sun, dryness and dermatitis.
Features
:
Tea Tree is a potent antibacterial, anti-fungal, and natural antiseptic.
Research shows Tea Tree is effective at clearing blemishes, resolving fungal issues and fighting bacteria.
Natural moisturizer and antioxidant Vitamin E helps protect the skin's fatty acids, fight free radicals and hydrate skin to aid in the recovery process.
Ideal for those seeking a natural antibacterial, anti-fungal and antiseptic cream that helps protect skin against future problems.
May also be used as a daily moisturizing cream for normal to dry skin types.
100% vegan, cruelty-free, paraben-free, sulfate-free, mineral oil-free, lanolin-free, gluten free, GMO-free.


Holly:
a few months ago
Purchased this cream for the first time a few weeks ago and I love it! Great for cystic acne, and moisturization. The tea tree smell is very pungent at first, but fades slowly after application. I have sensitive skin and this does not give me any irritation. Buyer beware, some people can have an allergic reaction to Tea Tree. I would highly recommend this cream if you need a moisturizer that does not clog your pores, and cause additional breakouts :) Excellent anti-fungle—anti-bacterial treatment for face and body.
Page
1