Diono Everett NXT Black Booster Seat
Everett NXT. Designed to grow. Built to last.
Designed to grow
Suitable from 4 – 12 years approx. The 7-position adjustable headrest can be set at different heights and altered using the handle on the back of the seat. The ergonomic design also includes built in extra padding and side impact protection.

Universal Connectivity
Everett has a variety of installation options and can be used with or without the integrated Rigid LATCH connectors. Parents can use the vehicle seatbelt following their intuitive seat belt guides or alternatively install the seat using the integrated LATCH connectors.

Superior Safety
Everett's cushioned headrest incorporates their Side Impact Protection that has been engineered and tested to the highest standards.

No Sweat
Weighing only 4.05kg (8.9 lbs) Everett is super light, allowing you to move the seat between vehicles with ease.

Extra Comfort
Memory foam support cushions contour around the shape of your little one with padded armrests for extra snugness for every type of journey.

Wash and Go
They know that all the best adventures get messy, that's why they selected machine washable fibers, so you can simply remove the cover, wash and refit.
Features:

Super lightweight frame
7-position extending headrest, adjusted using secondary lock off clips
Adjustable back to contour fit to vehicle seat back
High back booster that grows with your little one
Athleisure-inspired durable fabric coverings
Extra padding for superior comfort and support
Padded armrests for extra snugness for every type of journey
Geo-graphic print, designed to take pride of place in any vehicle
Energy absorbing materials overprotects in all the right ways
Rigid LATCH connectors that can connect to your vehicle ensuring enhanced safety and stability
Expiry date of 8 years from date of purchase
Care Instructions: Cover machine washable at 86F/30C/Cold
Technical Information:
Suitable for children who weight between 18.1 – 50 kg (40 and 120 lbs) and whose height is between 96.5 – 160 cm (38 to 63 inches) or approx. 4-12 years.
Dimensions:
Height: 72 cm / 28.35 inches
Width: 46 cm / 18.11 inches
Depth: 41 cm / 16.14 inches
Weight: 4.05 kg/ 8.9 lbs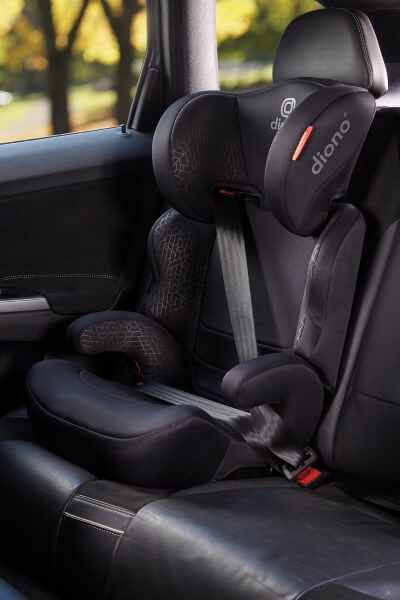 Similar Booster Car Seats