Doctor's Choice Colloidal Silver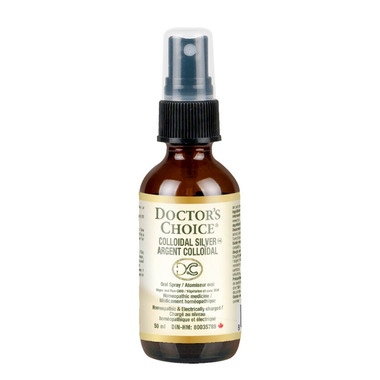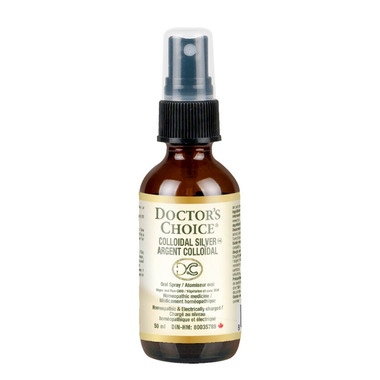 Doctor's Choice Colloidal Silver
Doctor's Choice Colloidal Silver Homeopathic Oral Spray is a clever combination of a time-tested antiseptic and disinfectant with a homeopathic method of preparation, producing an excellent remedy against bacterial infection and immune-boosting. Silver, used here in colloidal form, is becoming increasingly important in the medical world; and Her Majesty Queen Elizabeth maintains a Royal Homeopath to this day.

Silver's importance in medical applications is increasing of late, due to the upsurge in antibiotic-resistant bacteria: even wound dressings are incorporating silver to protect against such infections, which are now rampant throughout our hospitals. Supportive studies are showing that silver ions are highly effective against bacterial infections, including the resistant ones. Silver also kills bacteria in external wounds in living tissue, and therefore physicians use wound dressings containing silver sulfadiazine (Ag-SD) to treat external infections. In addition, silver is used in medical applications, such as urinary catheters and endotracheal breathing tubes, where the silver content is effective in reducing incidences of catheter-related urinary tract infections and ventilator-associated pneumonia, respectively. Silver is also used in bone prostheses, reconstructive orthopedic surgery and cardiac devices, as well as on surfaces and fabrics to reduce the spread of infection.

Features:

Excellent remedy against bacterial infections
Time tested antiseptic and disinfectant
Effectively supports the immune system
Homeopathic preparation assures safety
Non-nanotechnology 20 ppm electrically charged formula
100% Pure Pharmaceutical Grade
Non-GMO

Dosage: Adults, Adolescents and Children (ages 6 years and older): Spray once (0.5ml) 3-4 times daily or as directed by a healthcare practitioner. Duration of use: Consult a healthcare practitioner for prolonged use.