Doctor's Choice Laktokhan Probiotic Complex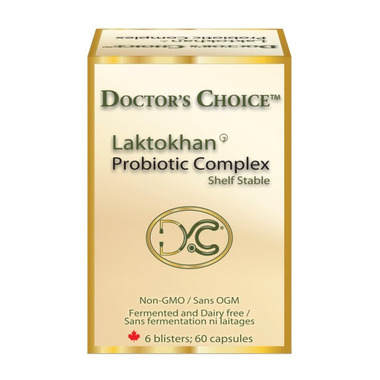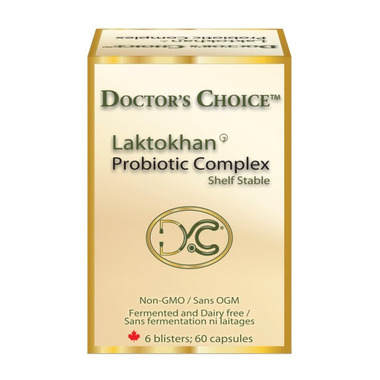 Doctor's Choice Laktokhan Probiotic Complex
Research from the University of Toronto has recently revealed that the amount of probiotics present in probiotic yogurts is too low to experience the claimed benefits.
The researchers concluded that probiotics are important for health, and probiotic products still have some value; however, they emphasized that a good probiotic product should have at least 10 billion bacteria per serving.
Dr. Choice's Laktokhan probiotic contains 10 billion CFU (colony-forming units) of four human strains of "friendly" intestinal microflora: Lactobacillus rhamnosus, Lactobacillus acidophilus, Lactobacillus casei, and Bifidobacterium longum. These friendly bacteria help keep harmful bacteria from multiplying in our intestines. Antibiotics can kill off healthy bacteria and lead to weakened immunity and intestinal disorders. Laktokhan restores the balance of good bacteria, thus helping to normalize digestive function and boost immunity.
Another feature of Laktokhan is their packaging. Oxidization kills live bacterial cultures. Oxidization begins to occur the moment the probiotic is exposed to oxygen; when the product is first opened, all capsules begin to lose their potency. To prevent this from happening, each Laktokhan capsule is blister packed individually and hermetically sealed to keep out oxygen: when one capsule is taken, the others remain fully active, no matter the time difference between dosing. It is shelf stable with full potency for 3 years, and if kept out of direct tropical sunlight, Laktokhan is fully active up to 30+ Celsius, which makes it the perfect travel companion.
Laktokhan also contains the prebiotic inulin, feeding only the beneficial bacteria, not the harmful organisms.
Laktokhan is completely vegan, the prebiotic is sourced from chicory root; depending on how chicory root is processed (naturally or chemically), it can be either FOS or Inulin directed. An "all-natural" means of extraction is what Laktokhan uses. It produces by fermentation long-chain fatty acids in the form of inulin. If a chemical extraction is used, a short-chain fatty acid is produced in the form of FOS. FOS can contribute to undesirable bacterial and yeast overgrowth.
By maintaining a balance between beneficial and harmful bacteria, Laktokhan helps to manage acute infectious diarrhea and reduces the frequency of gastrointestinal disorders, such as diarrhea and nausea, during antibiotic use.
Features:
Does not feed bad bacteria
Human origin strains remain within intestines
All strains (10 billion) are clinically proven and scientifically tested
Shelf-stable and blister packed
Vegan and non-dairy
100% Pure Pharmaceutical Grade
Non-GMO