Dot & Lil Oatmeal & Honey Milk Bath
Luxurious Moisturizing Soak
330 g (11.6 oz)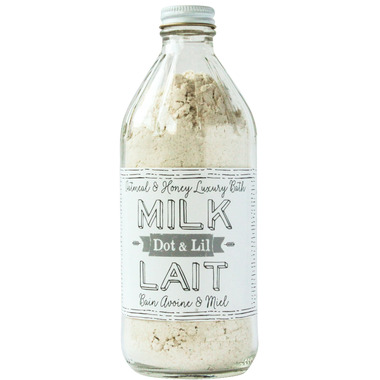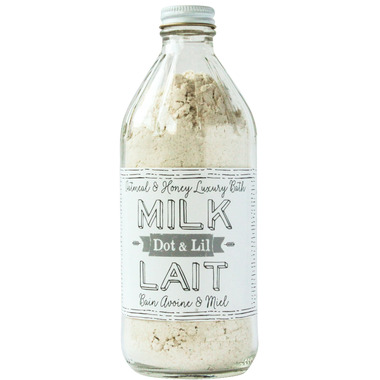 Dot & Lil Oatmeal & Honey Milk Bath
Luxurious Moisturizing Soak
330 g (11.6 oz)
This Dot & Lil Milk Bath is made with luxuriously moisturizing whole milk powder, and with ground oatmeal and baking soda to soften the water and your skin. This super-rich and soothing formula turns the bath water milky, white and opaque and gives you a Cleopatra-like bathing experience! Leaves skin sweetly scented and soft. Oatmeal & Honey smells warm and nostalgic. It is a buttery, smooth scent with a hint of almond and slightly-sweet honey.
Features
:
Finely crated by hand in Canada
Hydrating for dry skin
Fragranced with essential oil
Made with ground oats for soothing itchy skin
Beautiful vintage-style glass bottle
99% Natural
Directions
: Add 3 tablespoons or more to bath.
Ingredients
: Sodium bicarbonate (baking soda), lac powder (whole milk powder), avena sativa (oatmeal), zea mays starch (corn starch), fragrance