Douglas Laboratories Joint Tendon Ligament II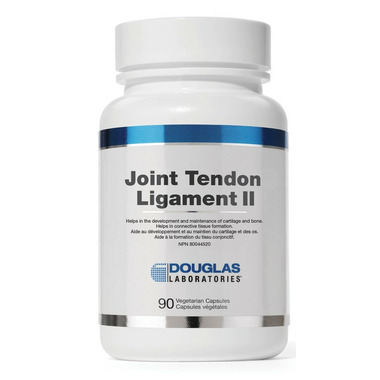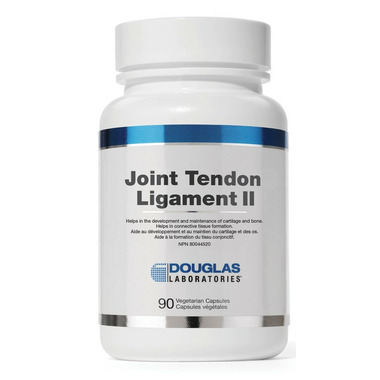 Douglas Laboratories Joint Tendon Ligament II
Douglas Laboratories Joint Tendon Ligament II is a unique formula containing several vitamins and antioxidants. The formula was specifically designed to help develop and maintain bone and cartilage.
Vitamin K plays a crucial role in building and maintaining bone health. It is needed to activate osteocalcin, a protein secreted by osteoblasts that regulates bone mineral maturation. Vitamin K2 (as MK-7) is more bioactive and effective than vitamin K1 and other menaquinones. Vitamin D also has a dramatic effect on bone formation as it promotes calcium absorption and the production of bone matrix proteins.
In vitro research has shown that vitamin C enhances the expression of type I collagen and fibronectin, two crucial components of connective tissue. Vitamin C is also an important water-soluble antioxidant.
The polyphenols contained in green tea, specifically the catechins, appear to provide the primary health promoting benefits associated with green tea consumption. Catechins, most notably epigallocatechin gallate (EGCG), act as critical antioxidants throughout the body. pTeroPure™ pterostilbene (a nature-identical form of a stilbene found in berries) is considered a methylated form of resveratrol. Pterostilbene has greater lipophilicity, a longer half-life and a higher potential for cellular uptake than resveratrol.
Folate (as bioavailable methylfolate from Metafolin®) and vitamin B12 (as metabolically active methylcobalamin) play important roles in erythropoiesis (red blood cell formation).
Joint Tendon Ligament II can be taken to help in the development and maintenance of cartilage and bone in conjunction with Joint Tendon Ligament I to help relieve joint pain associated with osteoarthritis.
Features:
Bone and cartilage maintenance
Suggested Usage: Adults: Take 1 capsule 3 times daily with food or as directed by your healthcare practitioner. Consult your healthcare practitioner for use beyond 8 weeks.

Ingredients:
Ascorbic acid (Vitamin C) 333.3 mg
Vitamin D3 (Vitamin D, Cholecalciferol) 8.3 mcg (333.3 IU)
Vitamin K2 (Menaquinone 7) 15 mcg
Folate (L-Methylfolate, Metafolin®) 133.3 mcg
Vitamin B12 (Methylcobalamin) 166.7 mcg
L-Carnosine (beta-Alanyl-L-histidine) 83.3 mg
Green tea extract (Camellia sinensis, Leaf)
(98% Polyphenols, 80% Catechins, 45% EGCG, 12:1, QCE 1000 mg) 83.3 mg
Blueberry (Vaccinium angustifolium, Fruit)
(25:1, QCE 2082 mg, 4% Polyphenols) 83.3 mg
Pterostilbene (4'-Hydroxy-3,5-dimethoxystilbene;
Methylated resveratrol, pTeroPure™) 16.7 mg
Metafolin® is a registered trademark of Merck KGaA, Darmstadt, Germany.