Douglas Laboratories Ultra Preventive X Vegetarian Capsules
Douglas Laboratories Ultra Preventive X Vegetarian Capsules
Ultra Preventive® X Vegetarian Capsules, provided by Douglas Laboratories®, is a comprehensive, highly concentrated vitamin-mineral trace element daily supplement containing more than 50 nutritional ingredients, all in a special herbal green food base. Its formula is carefully balanced to provide the essential nutrients for optimal health. Ultra Preventive® X is also a potent antioxidant formula that includes natural betacarotene, vitamin C, vitamin E, selenium, Lcysteine/N-acetyl-L-cysteine, lutein, lycopene, red wine proanthocyanidins and select extracts and powders from over 25 fruits, vegetables and herbs.
This product contains NO yeast, gluten, soy, milk/dairy, corn, sodium, sugar, starch, artificial coloring, artificial preservatives, artificial flavouring, or genetically modified ingredients (GMOs).
Suggested Usage:
As a dietary supplement, adults take 8 vegetarian capsules daily or as directed by your healthcare professional. This product is best taken with meals.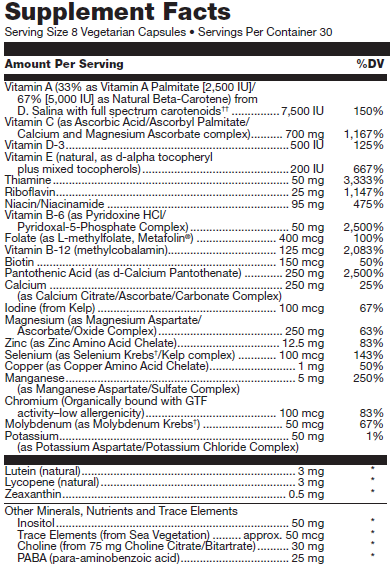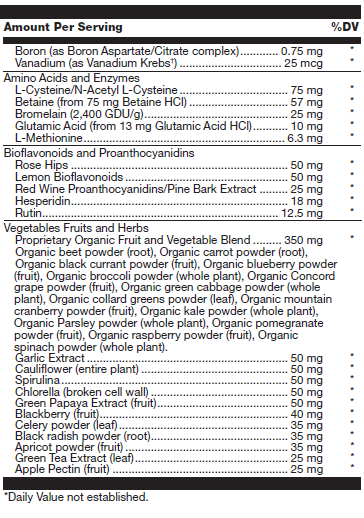 Other ingredients:
Hydroxypropyl methylcellulose (capsule), cellulose and silica.
† Krebs = Citrate, Fumarate, Malate, Glutarate and Succinate Complex.
†† Including Beta-Carotene, Alpha-Carotene, Zeaxanthin, Cryptoxanthin and additional Lutein and Lycopene.