Dr. King's Multi Strain Flu Relief Spray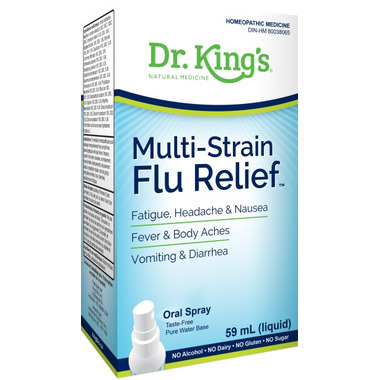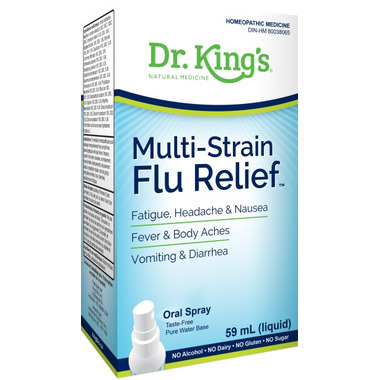 Dr. King's Multi Strain Flu Relief Spray
For Relief of symptoms due to flu-like discomforts. Temporarily relieves symptoms due to flu-like discomforts: fever, chills, body aches, nausea, fatigue, headache, sneezing, runny nose, nasal congestion, sore throat, swollen tonsils, cough, diarrhea, night sweats, vomiting.

Usage: Initially, depress pump until primed. Hold close to mouth and spray directly into mouth. Use 3 times daily. Use additionally as needed. Adult Dose: 3 pump sprays Children 2 -12 years: 2 pump sprays.

Active Ingredients: Anas barbariae, hepatis et cordis extractum (35C, 50C, 100C, and 200C), Arsenicum album, Baptisia tinctoria, Bryonia, Causticum, Cinchona officinalis, Echinacea purpurea, Eucalyptus globulus, Eupatorium perfoliatum, Gelsemium sempervirens, Influenzinum, Phytolacca decandra, Rhus tox, Sarcolacticum acidum, Sulphur, Wyethia helenioides, Zincum aceticum, Zincum muriaticum, Zincum oxydatum.

Inactive Ingredients: Bio-Energetically Enhanced pure water, Carya ovata bark extract (hickory), citrus extract, Lonicera japonica (honeysuckle), polylysine (natural ferment), steviol glycosides (stevia).

Caution: Stop use and ask a doctor if symptoms persist or worsen. If pregnant or breast-feeding ask a health care professional before use. Keep out of reach of children.