Dr Teal's Super Moisturizer Avocado Oil Mineral Soak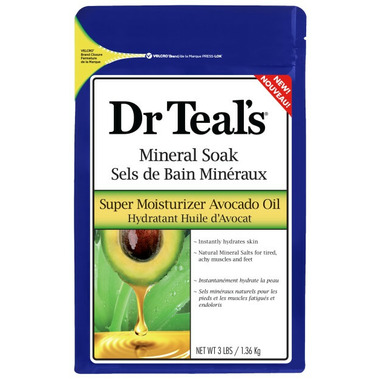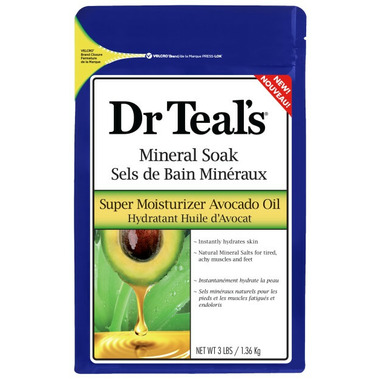 Dr Teal's Super Moisturizer Avocado Oil Mineral Soak
Super Moisturizer Avocado Oil Mineral Soak instantly hydrates skin. Contains natural mineral salts for tired, achy muscles and feet.

Dr. Teal's Ultra Moisturizing Mineral Soak combines natural mineral salts with Super Moisturizer Avocado Oil to nourish and soften dry skin. Long lasting mist leaves skin lightly scented and sensuously refreshed.

Usage: Soak to moisturize: Pour a generous amount of Dr. Teal's Ultra Moisturizing Mineral Soak under warm, running bath water. Soak for 15 minutes, and let rich minerals soothe and soften dry skin.

Ingredients: Sodium sequicarbonate, sodium chloride, sodium bicarbonate, corn starch, isopropyl palmitate, avocado oil, DL panthenol, fragrance, tocopheryl acetate (Vitamin E),Allantoin.

Caution: For external use only. Do not Ingest. Hot or warm soaks should not be used by individuals with diabetes, except on advice of physician. If irritation occurs, discontinue use. Always take care to avoid slipping in the tub.