Drive Medical Transport Chair & Rollator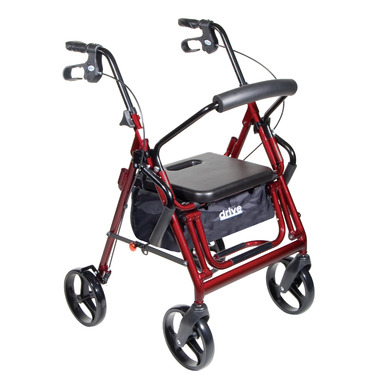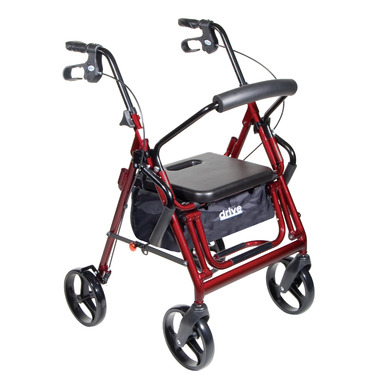 Drive Medical Transport Chair & Rollator
Drive Medical Transport Chair & Rollator combines the features of a rollator or transport chair in one unit. An individual can ambulate independently or be pushed safely by a care giver.

The Duet has locking flip up armrests and a flip down footrest to aid the user while the Duet is used in the transport chair mode. A safety lock release is used to store the arms and a hook and loop fastener strap is used to store the footrest while using the Duet for ambulation.

The tool-free two position contoured padded back rest is reversible depending on whether you are using the Duet in an ambulatory or transport chair mode.
Easy release loop locks.

Comfortable padded seat with a large underseat pouch for safe storage of personal items. Inside the pouch is a handle to aid with the folding.

The folding frame has a lock out feature to insure the unit stays open while in use and insures the unit will stay folded during transport.

Large 8 inch casters are used for both indoor and outdoor activities. Weighs only 19 lbs.
R W Powers:
more than a year ago
The $262.99 Transport & Rollator Chair was ordered and I would recommend it for its excellent solid design, suitability and good price. A number of walkers appraised by me do not have self locking wheels for self seating on which I consider a mandatory asset with this type of chair. Well.ca shipped
my order efficiently.
Page
1