e-cloth Deep Cleaning Mop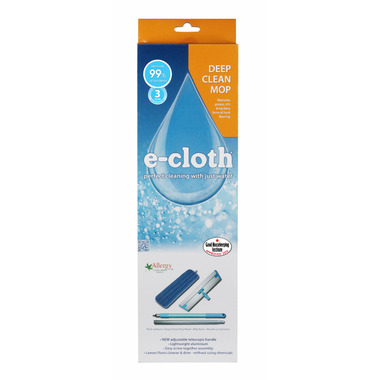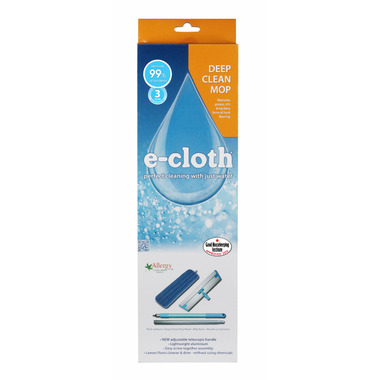 e-cloth Deep Cleaning Mop
This is the mop for hard floor cleaning. No need to invest in endless amounts of cleaning chemicals; all you need is water and e-cloth's highly absorbent Deep Clean Mop, to clean hard floors simply and quickly. The Deep Clean Mop's simple design and light aluminium base make cleaning floors effortless. The Mop Head's special weave and long fibres break up and hold grease and dirt, which ordinary mops leave behind. The Mop Head attaches with a hook and loop fastener and is easily unattached for a quick rinse or wash. Brilliant on all hard floors including, laminate, stone, tiles and wood.
Features:
Chemical Free Cleaning using just water
e-cloths and water absorb and remove over 99% of bacteria
Can be machine washed over 300 times
e-cloths are guaranteed for three years
80% Polyester/ 20% Polyamide
Tips for Use:
A hot rinse under a tap is often enough for day to day use. Recommend machine wash once a week and tumble or hang dry. Do not use bleach or fabric softener.
marilyn:
more than a year ago
I gave this product a 3 because the handle does not stay in place. The replacement pads are expensive and sorry to say that, in my opinion, the price does not justify the quality of this product. I have used cheaper mops that were less expensive and just as good--even better. Needless to say I would not purchase this item again. WELL.CA is however a wonderful company to deal with. Thank you!
Page
1