e-cloth General Purpose Cloth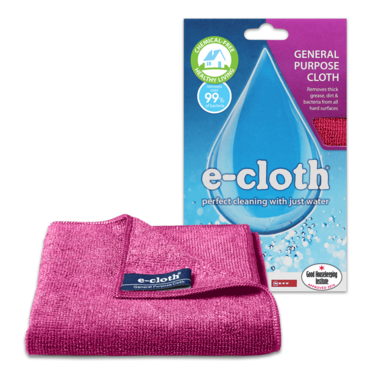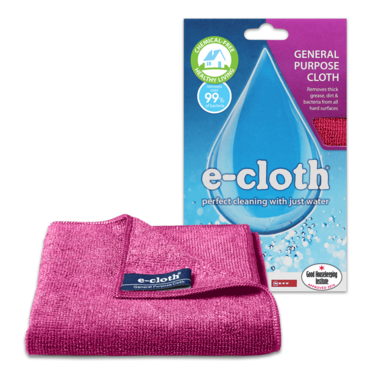 e-cloth General Purpose Cloth
This is the cloth for all your multi cleaning problems. No need to invest in endless amounts of cleaning chemicals; all you need is water and e-cloth's highly absorbent General Purpose Cloth to mop up spills and clean dirt around the home. One of the two original e-cloths, the highly versatile General Purpose Cloth's thicker fibres and wedge shape construction rapidly absorb spills and remove dirt, grease and bacteria. You can even use it dry for a quick and easy dust. Use the Glass & Polishing Cloth after the General Purpose Cloth for the perfect streak-free finish.
Features:
Chemical Free Cleaning using just water
e-cloths and water absorb and remove over 99% of bacteria
Can be machine washed over 300 times
e-cloths are guaranteed for three years
80% Polyester/ 20% Polyamide
Tips for Use:
A hot rinse under a tap is often enough for day to day use. Recommend machine wash once a week and tumble or hang dry. Do not use bleach or fabric softener.
Rachel:
about a month ago
Wow! I wasn't sure what to expect as I ordered my first ever General Purpose Cloth - but what I've received well surpasses what I'd hoped for! It's lovely and thick - making a great cleaning "pad" for behind the faucet gunk, and gathers all of that weird grey toilet tank dust without it clumping and sticking to the tank! And just using water! I'm excited now to try the entire line of cleaning products!
Joanne:
a few months ago
Awesome way to really clean.
Wipe any surface safely then hand wash it . You will be amazed how much dirt it collects. It disinfects completely.
I use it in my cleaning business. Price is worth it as you get three hundred washes per cloth.
Once a month if used daily boil in hot water to reset the cleaning fibres. Machine washable, no bleach needed.
Page
1