Earth Friendly Clear Dishmate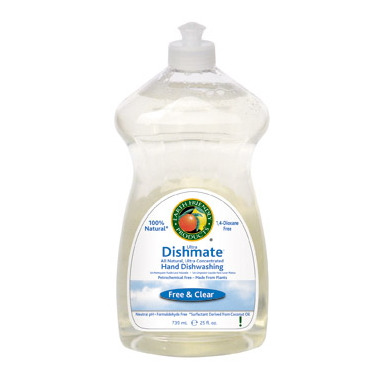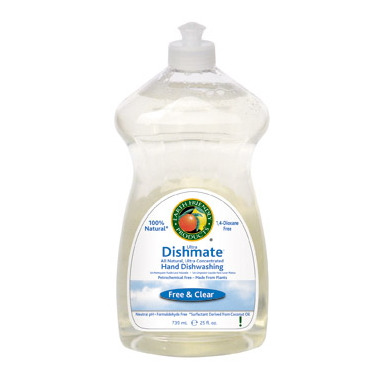 Earth Friendly Clear Dishmate
A powerful liquid hand dish washing product that is mild on sensitive skin. Letters from consumers have told us that Dishmate, and our other Earth Friendly Products are great products for individuals that cannot use harsh cleaning products. Dishmate"s almond and cherry oil based formulation acts as a moisturizer on your hands. The concentrated formula lasts for a long time, and we recommend that you squirt only a small amount into your sponge for cleaning dishes. Dishmate also acts as a great cleaner for hand washable clothes too.
Features:

Ultra-concentrated liquid dish washing product; cleans over 1900 dishes per bottle
pH 6.4-7.5; gentle on hands
Non-polluting/100% biodegradable/non-toxic/natural
Made of replenishable/sustainable ingredients
Plant-based surfactants we use do not harm the item being cleaned, your body or the environment
Free of harsh fumes or vapors
Pleasantly scented with expensive, pure, grapefuit oil
Excellent grease-cutting capabilities
Low-foaming/sudsing
Softens hands while doing dishes
No streaking or spotting
Septic tank and gray-water system safe: biocompatible with a wide variety of wastewater and gray water treatment systems; doesn't eliminate bacteria that make septic systems work efficiently
Competitively priced compared to natural and mainstream dish detergents
Easy to recycle #1 PETE container
Palm oil FREE
Ingredients: Water, Cocamidopropyl Betaine (coconut-based surfactant), Sodium Coco-Sulfate (coconut-based surfactant), Cocamidopropylamine Oxide (coconut-based surfactant), Phenoxyethanol (preservative), Methylisothiazolinone (preservative).

Kristina:
more than a year ago
I am slowly starting to replace all the chemical based, fragranced products for natural, scent free ones in my home now that I have a baby and was so happy to find this awesome dish soap that is chemical free and works well! Doesn't produce as many suds as regular dish soap but that's a good sign since suds = chemicals! I will use up what I have left of other brands and then I will exclusively buy this brand for dish soap going forward!
Page
1