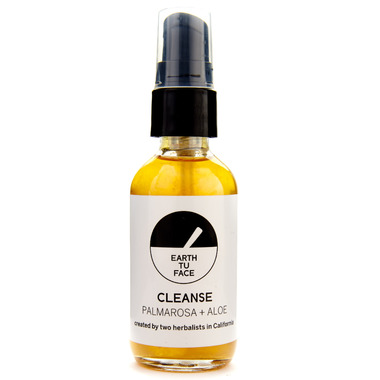 Description
Earth tu FACE Face Wash features the purest form of gentle soap made with organic, food-grade oils. This is a true soap that will remove impurities, make-up and refresh the face without stripping the skin.

Key Ingredients: Pure organic plant oils are saponified to create a sudsy, cleansing wash. The healing petals of Palmarosa and Ylang Ylang regulate both oily and dry skin types leaving the delicate scent of fresh flowers. Aloe and Olive oil replenish and hydrate the face without drying.

TIPS FOR USE: Massage into skin, avoiding eye area. Expect slight natural foam and a burst of botanicals on your skin. Rinse, and follow with a moisturizing product. Since Earth tu FACE works with plant-based ingredients, the texture and color of some products can differ from batch to batch. These slight variations are due to the organic, unprocessed nature of our high-quality ingredients. These differences are a sign of quality. Ingredients like these are the reason that Earth tu FACE's products always give such great results. Should your Face Wash look cloudy or separate, do not be alarmed, it is perfectly good. Simply give the bottle a little shake to combine if you so choose, but it is not necessary.

Ingredients: Organic Coconut Oil, Organic Olive Oil, Organic Jojoba Oil, Organic Guar Gum Extract, Organic Aloe Vera Leaf Juice, Rosemary Flower Extract, Non-GMO Vitamin E, Organic Hemp Seed Oil, Organic Rose Geranium, Organic Lavender, Organic Palmarosa, Organic Ylang Ylang.


Highlights