Ecoideas Coco Natura Organic Coconut Milk Powder Vanilla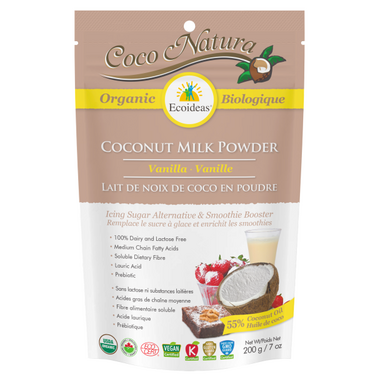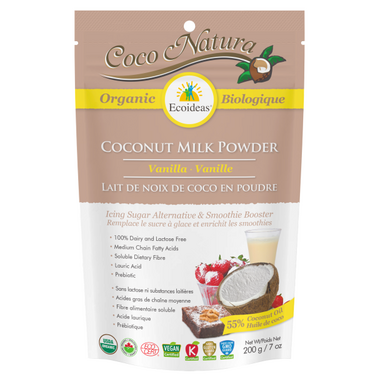 Ecoideas Coco Natura Organic Coconut Milk Powder Vanilla
Ecoideas Coco Natura Organic Coconut Milk Powder Vanilla can be sprinkled onto your cereal, yogourt, or ice cream! Use it as a replacement for powdered sugar to dust the tops of cakes, cookies, and pancakes. Dip your strawberries, bananas, or chocolate for a special treat. Coconut Milk Powder can also be added to your smoothie or favourite beverage. Coconut Milk is rich in Lauric Acid and contains Medium Chain Fatty Acids and Soluble Dietary Fibre.

Benefits:
Certified Organic
Gluten Free
GMO free
Vegan
Dairy and Lactose Free
Soluble Dietary Fibre
No Sugar Added
Trans Fat Free
Ingredients:
Organic coconut, organic inulin, organic maltodextrin, gum arabic, vanilla.