ECOlunchbox Oval Stainless Steel Containers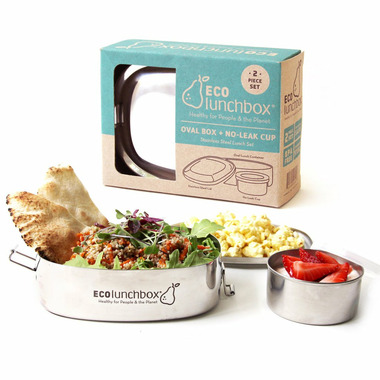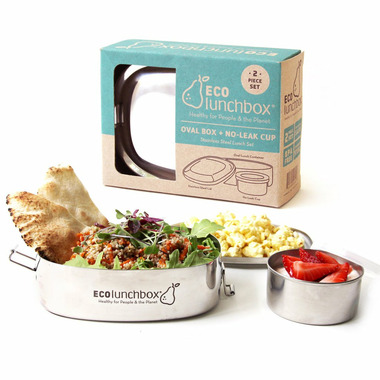 ECOlunchbox Oval Stainless Steel Containers
This 2-piece lunch set includes a large oval container plus a smaller cup with leak-proof silicone lid that's ideal for sauces, dips or other wet foods.
Go plastic-free with the ECOlunchbox Oval, a durable, reusable, toxin-free, lunch container set for your lunches. Large oval lunchbox measures 6 1/2 inches long by 5 inches wide and 2 inches tall fitting 3 cups of food and the small cup fits 1 cup of food!
Features:
2 piece set includes oval lunchbox and leak-proof cup, which can either be packed separately or inside the larger lunchbox
Total capacity 30 oz (3.75 cups)
Tare Weight: 16 oz
Great for portion control. Oval lunchbox capacity is 24 oz (3 cups). No-leak cup capacity is 6 oz (.75 cup).
Oval lunchbox measures 6.5" long x 5" wide x 2" tall. Cup measures 1.5" tall x 3.25" diameter.
Made of Stainless Steel 304
Cup lid is made of non-toxic, food grade silicone
Dishwasher safe
Not for use in the microwave. Food may be reheated in the metal containers in a medium-heat oven or over a camp stove.
Made in Thailand
Tonia:
more than a year ago
I do have to say the large container is very easy for my daughter and I to open. There is enough space for a sandwich cut in half and both halves placed upright and two muffin trays for your snacks, with more than enough room for thick sliced bread or extra condiments on your sandwich. It will also fit two sandwiches stacked on top of each other, for those who need that extra meal option (think Daycare or long road trips).

I bought the silicone muffin trays sold here (http://well.ca/products/starfrit-silicone-flower-shaped_567-
23.html), to use as dividers. The small container's lid cracked the second day/use, so now I use the metal container like I would the silicone muffin trays when I needs something larger. Overall good product, expensive for the lack of lid, but I didn't like the plastic touching my daughter's food anyways.
Page
1