Ecowaterless Natural Car Cleaning Kit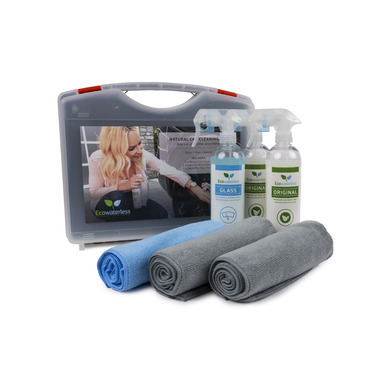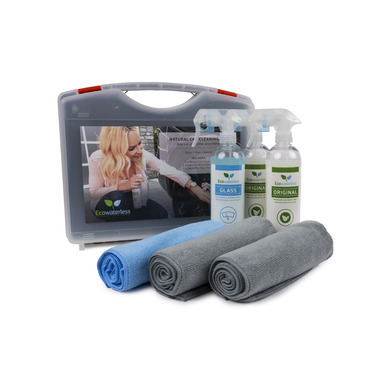 Ecowaterless Natural Car Cleaning Kit
- We're sorry, this product is no longer available!
- Shop for other products in: All-Purpose Cleaners

Includes:
2 x Bottles of All Natural Car Cleaner

1 x Bottle of Glass

2 x Gray Pro X Cloths & 1 x Blue Pro S Cloth
Rugged Carry Case

Simply spray the solution onto dirty areas of the car. Our solution will seep into dirt particles and liquify it. The wax and mineral oils form a protective barrier between car and dirt, allowing you to wipe the dirt off without damaging the car. Our innovative solution wax also leaves a natural shine that protects the paint for up to two weeks.
Each car wash through us saves 125-450 liters of clean drinking water. Our solution provides a better clean, protects the car paintwork and is more eco-friendly than the traditional way.
Easy and safe to use multi-purpose formula made from natural biodegradable plant extracts
Removes all car dirt and life's unexpected messes without harsh chemicals
Added natural wax mineral oil protects paint and leaves a smooth shine for weeks
All natural family friendly solution is perfect for interior and exterior of your car or bike
Each clean using Ecowaterless saves up to 250 litres of clean drinking water
Store kit easily in trunk to clean dirt
Features:
Everything you need to keep your car feeling clean and fresh inside and out
Up to ten full cleans
Non toxic, biodegradable and completely natural ingredients
Compact kit fits easily in the trunk
Directions:
Simply spray solution on surface and wipe with Ecowaterless extra plush clean cloths