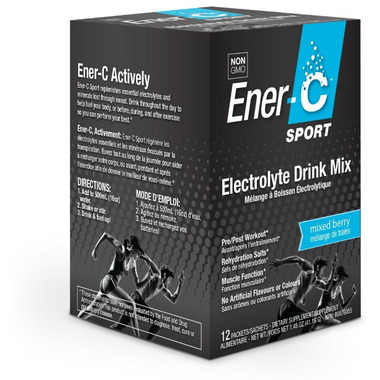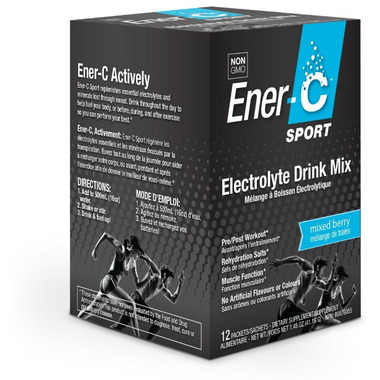 Ener-C Sport Electrolyte Drink Mix is perfect for pre/post workout to support muscle function and re-hydration. It works to replenish essential electrolytes and minerals that are lost through sweat. Drink throughout the day to help fuel your body, or before, during and after exercise so you can preform your best.
Ener-C was designed with you in mind. This delightful-tasting, effervescent vitamin drink mix is full of natural goodness. All vitamin and mineral sources have been chosen not only for their quality, but also for their ability to absorb easily in the body, ensuring that you get the greatest benefit from each and every packet of Ener-C.
Features:
Source of electrolytes
Caffeine Free
Real Fruit Juice Powders
No Artificial Flavours or Colours
No modified corn or food starch
Vegan and Non-GMO
Directions: Empty contents into 4-6 oz. of water, shake well and fuel up!
Suggested Use:
For adult use only. As a dietary supplement, take one packet up to two (2) times a day with food. Take a few hours before or after taking other medications. Consult a health care practitioner prior to use if you are pregnant or breastfeeding.

Ingredients:
2-hydroxy-1,2,3-propanetricarboxylic acid 580.0 milligrams Calcium 50.0 milligrams Chloride (ion) 293.0 milligrams Chromium 20.0 micrograms D-glucose 800.0 milligrams Magnesium 50.0 milligrams Potassium 110.0 milligrams Selenium 5.0 micrograms Sodium 125.0 milligrams Vitamin C 500.0 milligrams Zinc 5.0 milligrams