Enzymatic Therapy Gluten Defense
Targeted Digestive Enzymes
120 Capsules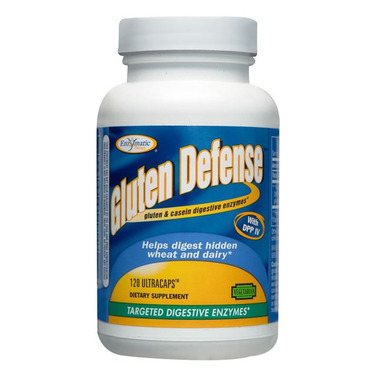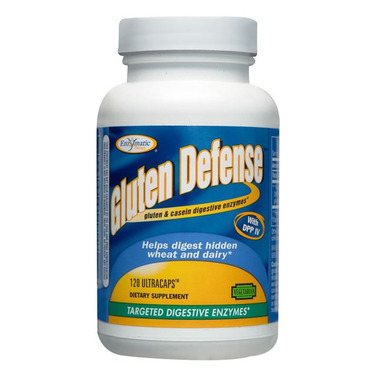 Enzymatic Therapy Gluten Defense
Targeted Digestive Enzymes
120 Capsules
Why are gluten and casein a concern?
Some individuals experience digestive discomfort when they eat foods with gluten and casein -- even when they try to avoid obvious sources. For some, hidden gluten and casein can be the cause of occasional gas, bloating, and indigestion. However, the right digestive enzymes can make a difference when trying to support a gluten free and casein free lifestyle.
Gluten Defense is specifically formulated to defend against hidden gluten. Gluten and casein are found where you'd never expect them -- salad dressings, cold cuts -- even toothpaste! Gluten Defense features DPP IV (dipeptidyl peptidase) activity, from a protease enzyme specific to digestion of gluten and casein.
Directions:
Take two capsules with each meal or as directed by your healthcare practitioner.

Medicinal Ingredients (per two capsules):
Pure Plant Enzymes™ DPP IV protease blend ... 536 mg
(amylase, lipase, phytase, lactase, cellulase, and sucrase)
Other Ingredients:
Cellulose, vegetable capsule (modified cellulose), inulin (from chicory root), calcium laurate, and silicon dioxide.
Caution:
While Gluten Defense™ will reduce the level of reactive gliadin and gluten proteins in a meal, it is advised that celiac disease sufferers continue with their normal gluten exclusion diet as even small amounts of gliadin can cause adverse reactions in the most sensitized individuals. If pregnant, nursing, or taking prescription drugs, consult your healthcare practitioner prior to use.