Enzymatic Therapy Pearls YB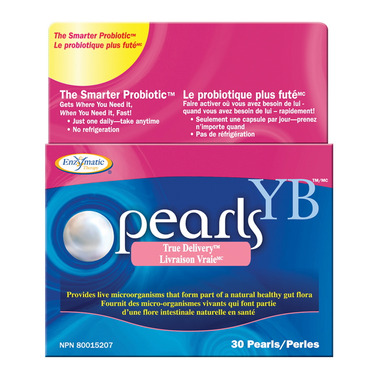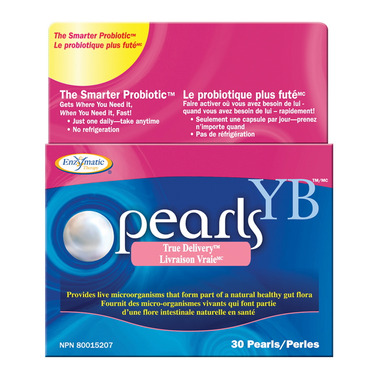 Enzymatic Therapy Pearls YB
Fast food, stress and exposure to toxins, plus overly acidic pH levels can leave you vulnerable to yeast. Maintaining an optimal yeast balance with the right probiotics can help you stay much more comfortable.
Enzymatic Therapy Pearls YB (Yeast Balance) provides triple-strength protection for your ultimate comfort. Pearls YB contains three types of Lactobacillus -- clinically shown to create an intestinal environment that supports healthy yeast balance. That means comfort for you, as Pearls YB supports vaginal and urinary tract health.
Pearls YB features True Delivery Technology which guarantees the active cultures SURVIVE stomach acids, ARRIVE in your intestines and remain ALIVE to provide exceptional support.
Enzymatic Therapy Pearls YB do not require refrigeration, so you can take them with you anywhere you go!
Directions:
One capsule daily, with water or your favorite beverage. May be taken with or without food. Do not chew or crush.
Medicinal Ingredients (per capsule):
Lactobacillus acidophilus, L. rhamnosus and L. plantarum ... 1 billion
Other Ingredients:
Palm oil, coconut oil, gelatine capsule (fish gelatine (Tilapia), glycerine), soy lecithin, pectin.
Warning:
This product has come into contact with fish, soy, and milk. Do not use this product if you have an allergy to fish, soy or milk. Discontinue use and consult a health care practitioner if symptoms of digestive upset (e.g. diarrhea) occur, worsen, or persist beyond 3 days.
Contra-Indications:
Do not use if you are experiencing nausea, fever, vomiting, bloody diarrhea or severe abdominal pain. Do not use if you have an immune-compromised condition (e.g. AIDS, lymphoma, patients undergoing long-term corticosteroid treatment).

Please be advised that Well.ca follows manufacturer guidelines for storing & shipping probiotics.