Everyone Eucalyptus & Citrus Epsom Salt Bath Soak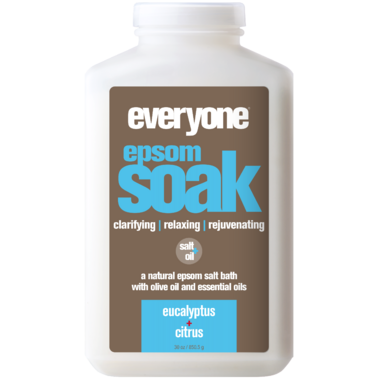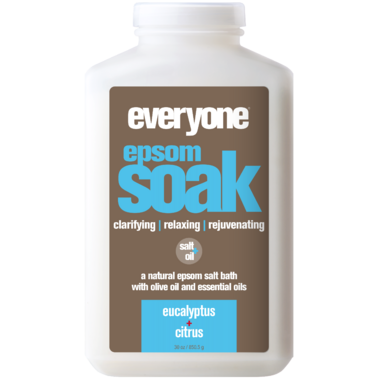 Everyone Eucalyptus & Citrus Epsom Salt Bath Soak
Inspired by fresh ocean air, an uplifting blend of Lemon, Lemon Myrtle, Orange, and Eucalyptus essential oils gives this soak its bright scent. Combined with Organic Olive Oil and Epsom salts, these essential oils refresh the senses while tired muscles are soothed and renewed. Formerly named Surfer, this bottle of relaxation is generously sized to share. 30oz, packaged in a recycled bottle.
Essential Oils
: An uplifting blend of Lemon, Lemon Myrtle, Orange, and Eucalyptus refreshes the senses like a deep breath of fresh sea air.
Plant Extracts:
Organic Olive oil nourishes deeply, replenishing the moisture your skin craves. Quench your whole body, starting with your skin.
Happy + Relaxed:
Magnesium-rich Epsom Salt helps to soothe and detoxify from the outside in. Tocopherol (Vitamin E) is added to provide even more moisture to your skin. Hot water is good medicine.
Ingredients: Magnesium Sulfate, Organic Olea Europaea (Olive) Fruit Oil, EO® Essential Oil Blend [Citrus Medica Limonum (Lemon) Peel Oil, Eucalyptus Globulus Oil, Citrus Aurantium Dulcis (Orange) Peel Oil, Backhousia Citriodora (Lemon Myrtle) Leaf Oil], Tocopherol.
jodi:
a few months ago
I love this product! I love coming home after a long day at work and relaxing in the tub with this and a great book! It smells great, like fresh citrus and eucalyptus (really clears the sinuses) and it contains oils that moisturize the skin. The only thing I would recommend is be sure that you clean the tub after using as the oil can leave it slippery!
Page
1