EVOLVh TotalControl Styling Cream
Strongest Hold and Maximum Volume
250 mL (8.5 oz)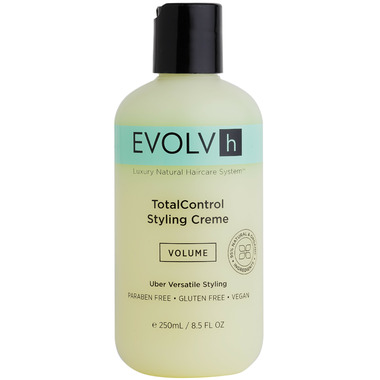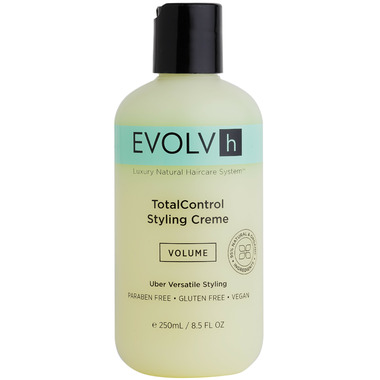 EVOLVh TotalControl Styling Cream
Strongest Hold and Maximum Volume
250 mL (8.5 oz)
Strongest Hold and Maximum Volume
EVOLVh's TotalControl Styling Cream is an uber-versatile botanical formula is ideal for creating virtually any look. TotalControl adds fullness and volume to create gorgeous curls or makes sleek and straight hair when used with a flat iron. This product feels virtually weightless and leaves hair soft, shiny and without frizz. TotalControl will preserve your amazing look for days.
Benefits
:
Offers strongest hold
Produces huge volume and fullness
Great styling product for men
Amplifies blowouts and creates a soft, voluminous look that will last for days
100% essential oil signature fragrance
Paraben free, gluten free and vegan
EVOLVh products are made using 90% or higher organic content
Never tested on animals
Made in the USA
Key Ingredients:
Flax adds hold, volume and shine.
Mallow hydrates and supports moisture balance.
Chamomile strengthens outer layer of hair and adds shine.
To use:
For volume, apply to damp hair from roots to ends. For maximum volume, blow-dry hair off the scalp and use a round brush technique for smoothness and lift. For curly hair, apply to wet hair from roots to ends, then use fingers to form the ringlet shape you desire and let air dry. For sleek, straight hair, apply to wet or damp hair roots to ends, blow-dry until hair is completely dry, then use flat iron.
Ingredients
: Water, pHytoBlend (proprietary concentrate blend of 20 herbs in an aqueous base), mallow, flax, marigold, chamomile, cyclomethiconal, corn starch, citrus seed extract.
Organic, natural, paraben free, gluten free, vegan, never tested on animals, made in the USA