EVOLVh Volume Discovery Kit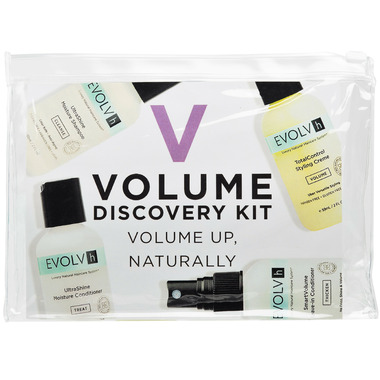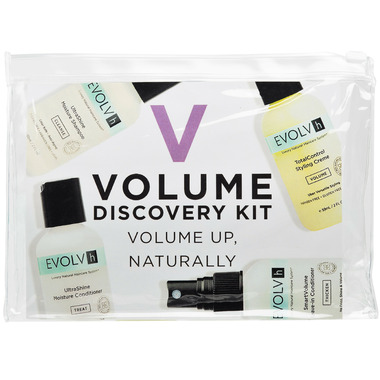 EVOLVh Volume Discovery Kit
The EVOLVh Volume Discovery Kit is complete all-natural system for stunning volume, that's soft to the touch and brilliant with shine! UltraShine Moisture Shampoo and UltraShine Moisture Conditioner moisturize and condition the hair, the perfect foundation for smooth hair. Smart Volume Leave-in Conditioner thickens and adds fullness without drying hair, fortifies strands and prevents breakage and splitting while weightlessly adding shine and smoothness. TotalControl Styling Creme is ideal for creating any look, and together with SmartVolume adds incredible fullness and volume, that's soft, has brilliant shine, and memory for a style that will last for 24 hours and beyond. Welcome to max volume!
The Volume Discovery Kit includes:
2 oz sizes of the UltraShine Moisture Shampoo
2 oz UltraShine Moisture Conditioner
2 oz SmartVolume Leave-in Conditioner
2 oz TotalControl Styling Crème
Reusable Recyclable Zip Pouch + Instruction Card
Stunning Volume in 5 Easy Steps:
1. Cleanse and Treat hair with UltraShine Moisture Shampoo and Conditioner.
2. Spray towel dried damp hair with 10-12 spray pumps of SmartVolume from roots to ends.
3. Blow-dry hair away from scalp with a round brush or using gravity by hanging head upside down while drying.
4. When hair is 50% dry, apply TotalControl root to ends - nickel sized amount root to mid-shaft, dime size from mid-shaft to ends.
5. Finish blow-drying hair away from scalp and voila!
Organic, natural, paraben free, sulfate free, gluten free, vegan, never tested on animals, made in the USA