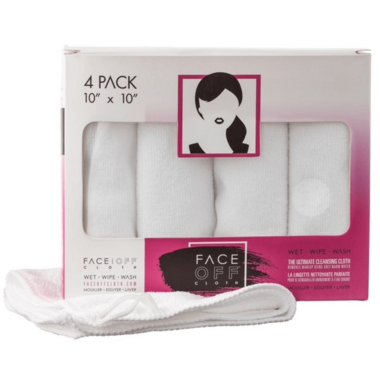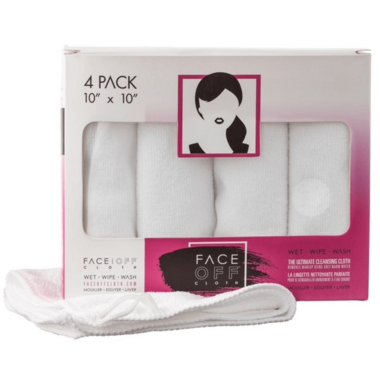 No longer will you need multiple products to remove your makeup, FaceOff clothes do it all with just warm water! This soft, reusable makeup removal cloth will instantly remove makeup, sweat and grime, even the harder to remove materials like mascara.

Your face will feel refreshed as FaceOff cleanses and exfoliates, leaving your complexion radiant and feeling its best! FaceOff eliminates the need for chemical and fragrance filled soaps, cleansers and wipes, which have been known to dry out and irritate the skin. FaceOff's secret lies within its unique weave of ultra-thin microfibers, designed to gently lift dirt, excess oil and impurities, leaving the skin feeling fresh and healthy. The FaceOff Cloth is hygienic, effective and suitable for all skin types.
FaceOff is eco friendlier too. No need to throw out makeup wipes or cotton pads. Once the dirt is off your face and on the cloth, simply wash it with soap and water, rinse and then hang to dry. It all comes right off, and the cloth goes back to its soft, super white form. The FaceOff Cloth can also be machine-washed and should be replaced every 3-4 months.