Febreze Candle Air Freshener Hawaiian Aloha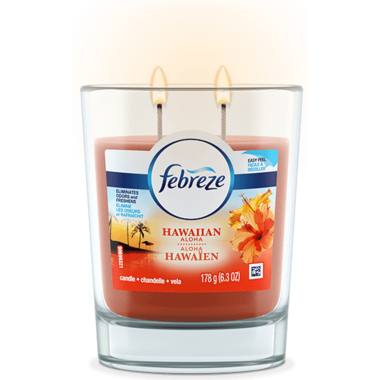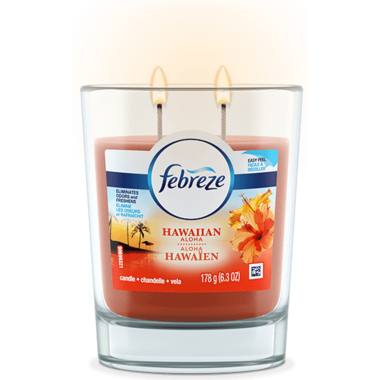 Febreze Candle Air Freshener Hawaiian Aloha
Febreze CANDLE doesn't just mask odors, it cleans away odors, leaving your air with a light, fresh scent for hours and hours. The double-wick flame releases a welcoming glow and room-filling freshness as it burns, cleaning away tough odors such as food, pet, and smoke smells. A perfect addition to countertops, tables, mantels, and more, Febreze CANDLE complements any decor and infuses your home with warm, soothing freshness. With Febreze CANDLE, you can light the way to odor-free air and long-lasting freshness in any room of your home.
Features:
Doesn't just mask, cleans away odors
Febreze CANDLE cleans away odors and freshens for hours and hours
Fits perfectly on countertops, tables, and mantels in bedrooms, bathrooms, kitchens, living rooms, or any room
A lush, tropical Hawaiian Aloha scent
Febreze Candles Air Freshener
To Prevent Fire. Burn within sight. Keep away from things that can catch fire. Keep away from children. Never extinguish candles in water. This can cause the hot wax to splatter and the glass container to break. Burn on heat resistant flat surface away from drafts and other heat sources. If flame smokes, extinguish, trim wick, and relight. Do not use if jar is chipped or cracked. Do not handle hot jar. Remove wick trimmings, matches, or other debris before each lighting. Trim wick to 1/4' before each lighting. Do not use refills or other candles in used and/or empty Febreze Candles glass jars.