Fig + Yarrow Citrus Vanilla Travel Sugar Scrub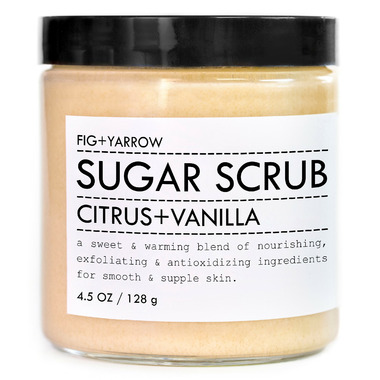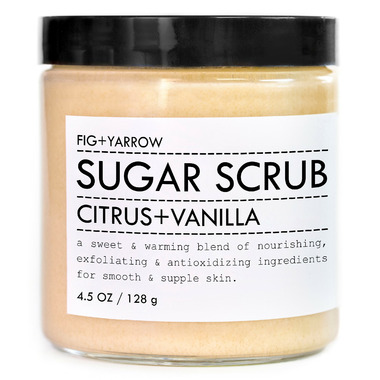 Fig + Yarrow Citrus Vanilla Travel Sugar Scrub
Fig + Yarrow Citrus Vanilla Travel Sugar is a deliciously bright blend of nourishing, exfoliating and antioxidizing ingredients for smooth and supple skin. Gently buff away dull surface cells for softer skin and a closer shave, stimulate the lymphatic system to assists detoxification of skin, purify the body and stimulate energy flow.
Featured Ingredients:

A staple in both ayurvedic and Chinese medicine, mandarin essential oil maintains moisture balance in the skin and may diminish dermal imperfections
Naturally gritty cane sugar gently polishes while constituent glycolic acid conditions, moisturizes, and wards off toxins Pumpkin seed and coconut oil blend with shea butter and vitamin E to rejuvenate skin with intense moisture
The fresh, tangy-sweet scent of orange oil is commonly used to provoke feelings of warmth and happiness and has been shown to stimulate the lymphatic system and detoxify skin
Directions:
emulsify a modest amount between wetted hands; massage into skin with circular and sweeping motions from feet and hands toward heart; breathe in aromatherapeutic benefit; rinse with warm water.

Ingredients:
Saccharum officinarum (cane sugar)*, Cucurbita Pepo (pumpkin) seed oil*, Butyrospermum parkii (shea) nut butter*, Cocos nucifera (coconut) oil*, Rosmarinus officinalis (rosemary) leaf extract*, Tocopherol (vitamin E, non-GMO), essential oil of: Citrus reticulata (mandarin), Citrus sinensis (blood orange), Myroxylon pereirae (peru balsam).
Organic, Natural, Vegan, Fair Trade