Fig + Yarrow Travel Underarm Lotion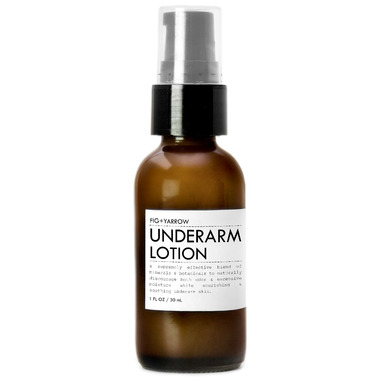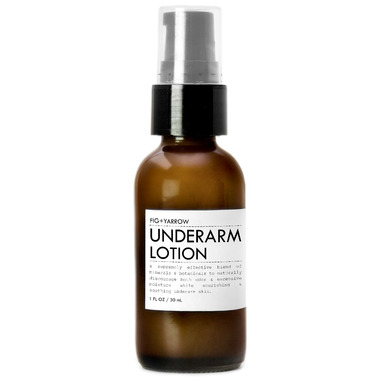 Fig + Yarrow Travel Underarm Lotion
Fig + Yarrow Underarm Lotion is a supremely effective blend of minerals and botanicals to naturally discourage odor and excessive moisture while nourishing and soothing underarm skin. Diminish excessive perspiration and odor-causing bacteria while soothing tender skin and balancing pH.
Featured Ingredients:
Both sage and witch hazel contain naturally astringent tannins shown to reduce excessive perspiration and odor
Cooling aloe long revered for its soothing and reparative effects, soothes while providing antibacterial benefit
Sodium bicarbonate is a valuable mineral known to eliminate bacteria and balance pH for natural skin protection
Zinc is an essential trace mineral that helps detoxify and has been shown to reduce perspiration and odor
Coconut oil's saturated fats smooth while fatty acids have disinfectant and antimicrobial properties
Pure essential oil blend provides exceptional perspiration and odor minimization and an alluring gender-neutral scent
Directions:
pump modest amount onto fingers, disperse and massage into underarm area.
Ingredients
: Aloe barbadensis (aloe) gel*, Hamamelis virginiana (witch hazel) extract*, Zinc oxide, Cocos nucifera (coconut) oil*†, Sage extract (neutral cane alcohol*, Salvia officianalis*), Glyceryl stearate, Sodium bicarbonate (baking soda), Cetearyl alcohol, White kaolinite Clay, Citric acid, Sodium stearoyl lactylate, Glycine max (soy lecithin)*, essential oil of: Aniba rosaeodora (rosewood).
Organic, Natural, Vegan, Fair Trade