Finesse Home Relax Aroma Pendant Set
1 Necklace + 10ml Relax Essential Oil Blend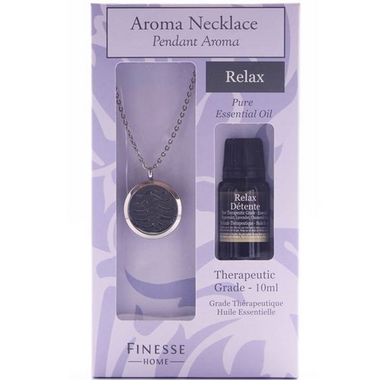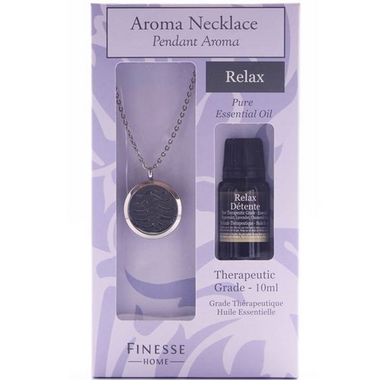 Finesse Home Relax Aroma Pendant Set
1 Necklace + 10ml Relax Essential Oil Blend
Finesse Home's Relax Essential Oil Blend paired with the Wave Aroma Pendant Necklace. A perfect gift!
Relax Essential Oil is a 100% pure blend of Chamomile Roman, French Lavender and Peppermint essential oils. Designed to help restore emotional, physical and spiritual harmony and calm. Helps to de-stress the body. The Aroma Pendant is made from surgical grade stainless steal with a magnetic clasp. The pendant is resistant to tarnishing and the pad stays locked in place. The stainless steel chain is 24 inches long, perfect for enjoying the benefits of aromatherapy throughout the day. Comes complete with 3 washable pads (various colours) included with the pendant.
Directions
: Relax Essential Oil relaxes and destresses mind. Apply a few drops of essential oil to one of the coloured pads and place inside the necklace. Refresh as needed. Caution: Should not be used during pregnancy. Keep out of reach of small children
Ingredient
:
Aroma Pendant: Stainless Steel
Relax Essential Oil: Anthemis nobilis, Lavandula angustifolia, Mentha piperita
Natural, Organic, Vegan, Gluten Free, Non-GMO






mel:
a few months ago
I have just received this so I can not say of its effect or if the jewl will remain untarnished, but I can say that the chain and pendant are just beautiful and do seem of good quality and is comfortable to wear and the oil smells really nice and I think it will have its calming effect . I'm happy and do recommend.
Page
1