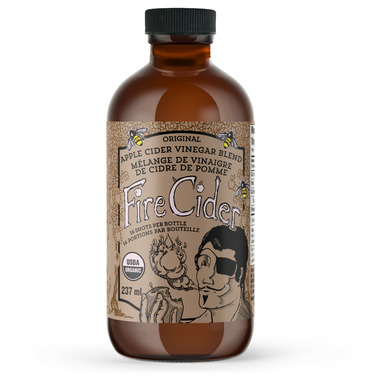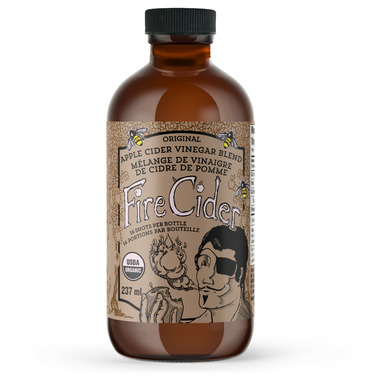 The flavor that started it all, The Fire Cider Original!

To craft this tonic, they start with a base of raw, certified organic apple cider vinegar, which has long been used by everyone from grandmothers to farmers to extract the beneficial properties of vegetables, fruits, herbs, and spices. To this, they add whole, raw, organic ginger, horseradish, onions, black pepper, and garlic. Then organic habañero peppers get tossed in for heat, turmeric for a bit of zing, and lemons and oranges for a citrus-y tang.

The mixture is steeped at room temperature—no heat involved—which preserves the living vinegar culture and allows the flavors to develop. As a final step, they blend in a generous amount of raw, organic wildflower honey. The result is a tonic that's potent but balanced, with distinctive layers of sweet, tart, and spicy flavors.

Features:
A health tonic to restore, stimulate, and invigorate the body

Organic, Gluten Free and Dairy Free
Peanut Free Product, Tree Nut Free Product
Ingredients: Apple Cider Vinegar, Honey, Oranges, Lemons, Onions, Ginger, Horseradish, Garlic, Turmeric, Habanero Pepper, Black Pepper

Recommended Dosage: ½ to 1 tablespoon