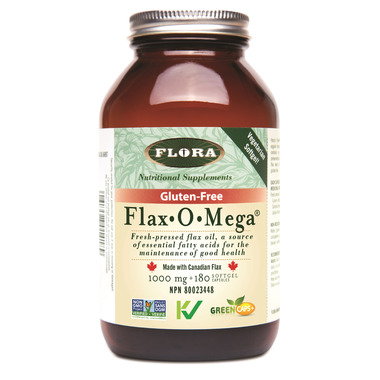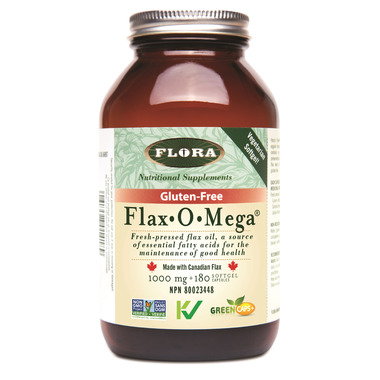 Flora's Flax•O•Mega® is made with organic fresh-pressed flax seed oil from Canadian farms. It is a source of essential fatty acids for the maintenance of good health. Something to feel good about!
Features:
Made with 100% Canadian flax seed oil
Made from only certified organically grown flax seeds
Expeller-pressed fresh in an oxygen and light-free environment
Third party tested for quality and purity
Additive and preservative free
Capsules are perfect when travelling
Certified Kosher
Gluten-free
non-GMO
Vegan
EFA

Adult Dosage
: Take 1 to 3 capsules three times daily, or as directed by a health care practitioner.
Keep out of reach of children. Store in a cool, dry place.

MEDICINAL INGREDIENTS:
Organic Flax seed oil (Linum usitatissimum) (fresh pressed) 1000 mg
Contains Omega-3 fatty acids (Alpha-linolenic acid) 45-65%

NON-MEDICINAL INGREDIENTS
: Water, glycerin, modified food starch, carrageenan, caramel and sodium carbonate