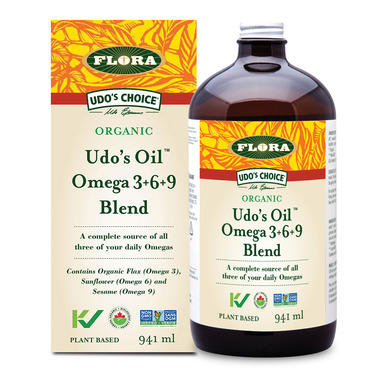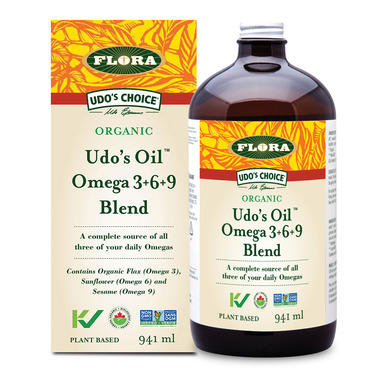 Udo's Oil Omega 3+6+9 Blend is a foundational oil that provides the omega-3 and omega-6 essential fatty acids (EFAs) the body needs but cannot make on its own – they must be obtained from our diet. This plant-sourced, organic unrefined oil blend is designed to provide the ideal 2-to-1 ratio of omega-3 and omega-6 fatty acids. Award-winning Udo's Oil Omega 3+6+9 Blend contains all the good fats you need without the bad fats you should avoid, with natural, unrefined oils from fresh, certified organic flax, sunflower, sesame, and evening primrose seeds as well as oils from coconut, rice, and bran.
Provides omega-3 and omega-6 Essential Fatty Acids
Ideal 2:1 ratio of omega-3 to omega-6
Derived from organically grown unrefined seed oils
Add it to yogurt, smoothies, soups, salads and your favourite meals
Contains oils made with health rather than shelf life in mind
Packaged in glass to prevent plastics from being leached into the oil
Formulated by Udo Erasmus, author of Fats that Heal Fats that Kill
Directions:
For optimal freshness, KEEP REFRIGERATED. Do not heat or use for frying. Once opened, consume within 8 weeks.

Ingredients:

Flaxseed oil*, sunflower seed oil*, sesame seed oil*, coconut oil*, evening primrose seed oil*, rice bran oil*, soy lecithin*, oat bran oil*, mixed tocopherols**.
*Organic ** Non-GMO
Non Gmo, Organic Vegan