Flourish Vanilla Protein Pancake Mix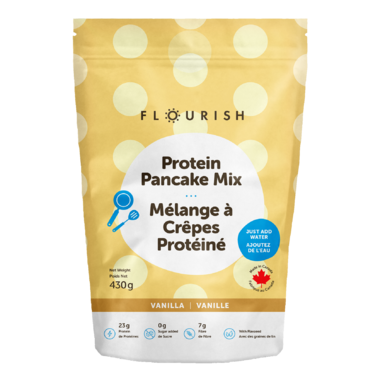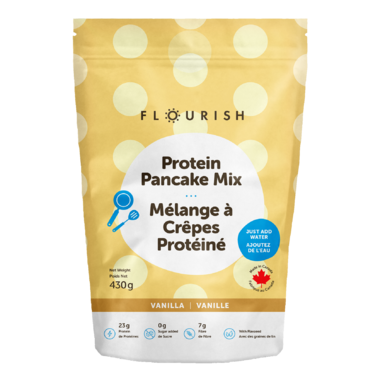 Flourish Vanilla Protein Pancake Mix
Opening a bag of Vanilla Flourish Protein Pancake Mix will be an elevated experience for your senses. Sweet scents of Organic Vanilla burst from the bag. Inside, a beautifully blonde-coloured mix awaits; ready to become the perfect breakfast. Just add water to start, and finish this masterpiece off with yogurt and fresh fruit.

Features:
23g of protein
0g of added sugar
7g of dietary fibre
Organic and Non-GMO ingredients
Sweetened with organic vanilla
Directions: 1/2 Cup of Flourish mixed with 115 mL of the liquid of your choice (Water, Milk, Almond Milk etc.).
Ingredients: Non-GMO Whole Wheat Flour, Whey Protein ( whey protein, milk, natural vanilla flavours, non-GMO sunflower lecithin), Milled Flaxseed, Baking Powder, Vanilla Powder, Ground Flax Seed, Baking Powder, Organic Erythritol. Contains: Milk. Manufactured in a facility that also processes: peanuts, soy, shellfish, tree nuts.