Fody Feelin' Saucy BBQ Sauce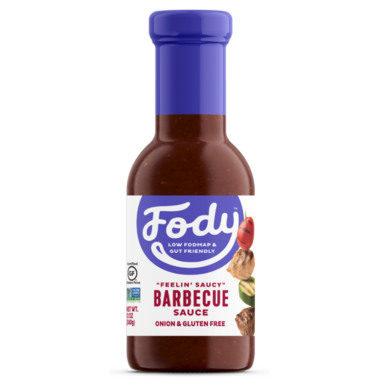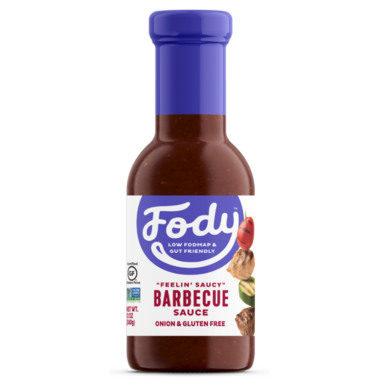 Fody Feelin' Saucy BBQ Sauce
Barbecue bliss! Marinate, glaze and barbecue your chicken and meat with Fody's smooth low FODMAP Feelin' Saucy BBQ Sauce. Prepared with the ideal amount of sweetness, this BBQ sauce will have you drooling. So fire up the grill!
What are FODMAPS

According to Monash University, FODMAPs are a group of dietary sugars that are poorly absorbed in the small intestine. FODMAPs can trigger digestive issues including gas, bloating, distension, abdominal discomfort, pain, diarrhea and/or constipation by some people, especially those with Irritable Bowel Syndrome (IBS). FODMAP stands for: Fermentable Oligosaccharides Disaccharides Monosaccharides And Polyols.


What foods contains FODMAPS
There are 5 types of FODMAPs that exist in the food we eat. They are: fructose, lactose, fructans, galacto-oligosaccharides and sugar alcohols. Food can contain one or more types of FODMAPs.
FODMAPs are found in many foods: from various fruit and vegetables, to milk and wheat. It can be confusing to identify FODMAP foods, and you may find many different contradicting opinions and low FODMAP food charts out there. For more information, check out Fody's
High
and
Low
FODMAP food charts.
Features:
Certified Low FODMAP - the only clinically proven diet for those suffering from irritable bowel syndrome (IBS)

Clean label ingredients
Non-GMO Project Verified
Certified Gluten Free
Vegan
Ingredients: Crushes Tomatoes, Cider Vinegar, Water, Evaporated Cane Sugar, Molasses, Horseradish, Sea Salt, Natural Smoke Flavor, Black Pepper, Natural Flavour.